Storm Watch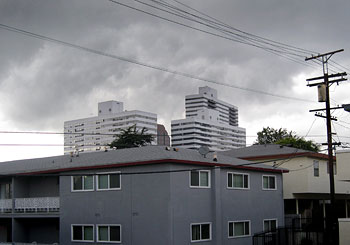 Looking out the window here at fairly menacing clouds that haven't managed to do much in the way of rain or snow in the local mountains thus far. Mt. Baldy reported a trace of snow overnight. Ie: nothing. This storm is notable for its cold temps—very cold. I'm brewing up another cup of tea down here in not-so-sunny SoCal to chase away the shivers.
Just doesn't seem fair to see a snow level around 3600' without any snow. Lots of different reports on weather possibilities, with some models suggesting a major Sierra Storm event later this week or early next. Appears to be agreement that we're in a strengthening La Nina event, thanks to cool Pacific temps. Take this news as you will. Historically, La Nina translates to drought in California, but I suspect we've tinkered with the climate enough to introduce a lot of confusion into historical data-based models.
Clearly, this hasn't been a banner Sierra winter so far, but if we can eek out a few big storms, at least that will keep things covered enough to keep skiing. I'm hoping for a big winter: there are a few big lines I'm eying that will only open up with heavy snows.
Andy Lewicky is the author and creator of SierraDescents