Osprey Talon 44 — Winter Update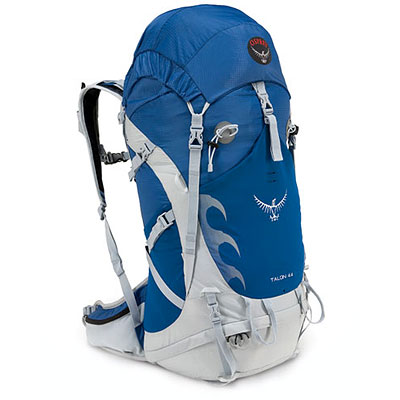 I liked Osprey's new Talon 44 backpack enough in summer to want to give it a try in Winter. At an unmatched two pounds, nine ounces, the Talon is Oprey's lightest multi-day pack, with an innovative frame that easily bests a traditional stay-and-framesheet design in stiffness and load-worthiness. Two pounds nine ounces puts the Talon in the daypack weight class. If the idea of carrying heavy winter loads with a pack that weighs half as much as the typical mule design appeals to you, you'll understand exactly why I took the Talon for an overnight ski last weekend.
How did the Talon do?
Well...loaded up with all my winter gear, I finally saw the limits of the Talon's carrying ability. The problem lies not in the frame itself, but in the hip belt, which has no stiffness to resist backward torquing (the belt is essentially a soft strap). Consequently, the Talon put a constant and considerable load on my back—unacceptably so. Note, however, that this is a design flaw that could easily be fixed without adding significant weight to the Talon.
The other thing I noticed was the quirky Osprey buckles and straps became much less amusing in 60mph winds, bitter temps, and darkness. I battled constantly with the straps, finding them always needlessly difficult to operate. I say junk the whole lot of them and replace with traditional buckles and pulls.
The Talon has been harshly criticized in some circles for durability issues. I have had no problems, including scraping it against rocks, throwing it into and out of my car, and generally just not being too gentle with it. But I have to admit, this is a very light pack, especially in terms of materials and stitching, and I keep expecting something to come loose at some time. It just hasn't yet. Another criticism I've seen is in regard to the Talon's clever "airspace" backpanel, which is designed to channel air against your back to prevent sweating.
The airspace works, in my opinion—contrary to others'. One reviewer thought that the airspace served only to collect snow and ice. I didn't have this problem over the weekend, so I remain unconvinced that it's an issue. I suppose if you packed the area with snow, it might be difficult to clear. Do what you will with this information.
So here's my verdict: the Talon is not ready for true Alpine overnight use. But darn, it's close. And if Osprey can get the kinks out of this design, swallow their pride and use normal buckles and traditional attachment points, and keep the weight down, watch out! This will be a lightweight wonder.
Andy Lewicky is the author and creator of SierraDescents
Broofa February 5, 2008 at 9:21 am
You might consider adding a date to your gear reviews. For example, I find myself wondering how old that Talon review you link to from this entry is.