SoCal Mountains – Aerial Update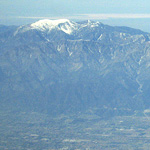 Mount San Antonio
Mount San Jacinto
Hopped a flight to AZ yesterday, en route again to Colorado for a little fun. I got a chance to snap a few photos of the Southern California mountains to check snow conditions.
Things look pretty burnt.
Baldy Bowl is starting to look bare, even above the Ski Hut, though I'm sure there are still a few good snowfields to be found. Interestingly, the South aspects between the two summits still look terrific.
Gorgonio has snow, and presumably the north aspects are still in good shape on both mountains. Our flight took a sort of angle over San Jacinto. Didn't get a chance to see the Snow Creek route (north facing), but I got a great view of Round Valley and the east face.
Andy Lewicky is the author and creator of SierraDescents
brad March 28, 2009 at 9:06 am
I ended up leading a group down Snow Creek 2 weekends ago. It was a great line from the summit. The bushwhack getting out of there sure was interesting...
I've definitely been intrigued by the north side of baldy. I got a good view of it from Baden Powell at the beginning of the month. Let me know if you want to plan a trip in the next few weeks.
Scott March 28, 2009 at 2:01 pm
I guess I'm still clinging to my non-SoCal fair weather ways and think that three miles of dry hiking approach is too much. We'll see how picky I still am in the next few seasons, but for now I think it's time to break out the mountain bike and rock climbing gear!
Andy March 28, 2009 at 3:14 pm
Well come on now...it's just not skiing if you don't have at least three miles of dry bushwhacking! :)