Glove Review Roundup (2009)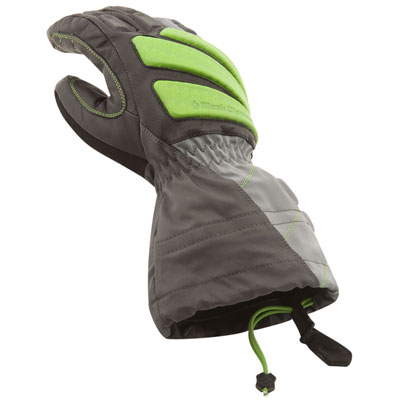 These past few days I've been working on a flurry of end-of-season gear reviews. First up: gloves. Swany was kind enough to send a pair of X-Change II's a few weeks ago. Thanks to this year's very strange Spring weather, we got to try these in a huge range of temperatures, from balmy SoCal 60's to frigid single-digits and 60mph winds below Palmyra Peak.
Quick take: in moderate to moderately-cold temps, the X-Change II is a sharp inbounds glove with some crossover (backcountry/mountaineering) appeal.
Speaking of single-digit temperatures, it was soon obvious I needed a warmer glove to cope with Telluride's unusually bitter cold weather. That led me to pick up Black Diamond's formidable Prodigy glove. Like the X-Change, the Prodigy is an Alpine glove, but the Prodigy specifically targets in-bounds freeriders who need extra warmth. The Prodigy is easily one of the warmest gloves I've ever tried. You'd probably have to switch to full-mitts to find something significantly warmer.
With the spring backcountry and hiking seasons now upon us, I've also got reviews up of two wind-blocking fleece gloves. Don't underestimate the usefulness of a good windproof fleece glove. These are lightweight and tremendously versatile. Black Diamond's Windweight glove is my pick in this department: light, comfortable, and impressively warm.
Less successful is the North Face Pamir. While the Pamir gets points for using Gore's proprietary Windstopper™ technology, its attempt to enhance grip with an extensively siliconized palm proved to be a flop. I'm coming to the opinion that grip is just always going to be a liability with fleece gloves.
If grip is your priority, rather than trying to press-gang a fleece glove into service, you're best off grabbing a pair of a dedicated climbing glove like the Black Diamond Torque. The 2.8 ounce Torque is a lightweight stretch-shell spring glove with absolute lock-down grip on smooth metal tool shafts. The Torque's sticky fabric grips even better than bare hands, for the ultimate in security on axe handles and ski poles shafts.
Andy Lewicky is the author and creator of SierraDescents