2009-2010 A/T Boot RoundUp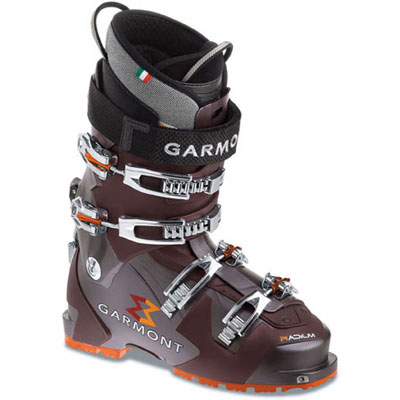 Online at last are all of my boot reviews for the not-exactly-annual SierraDescents Alpine Touring Ski Boot Roundup. The majority of these boots were provided as loaners by the manufacturers—thank you! I must note, however, that after the thrill of seeing so many new pairs of boots sitting in my living room wore off, actually skiing and writing about each of them proved to be a lot of work.
I must also note with some embarrassment that differences between boots weren't always that apparent. In fact, there were times I couldn't tell a difference, or else it was so small I had no confidence that I was actually detecting something—and this included tests in which I skied boots head-to-head, or foot-to-foot, as it were.
My sentimental favorite remains the Garmont Mega Ride. Even compared to the best of today's boots, the low-volume Mega Ride remains a hell of a performer, notable for its fine balance of downhill performance, uphill climbing comfort, and low weight. Sadly, the Mega Ride has been retired by Garmont.
The Mega Ride's apparent successor is the Garmont Helium, a brand-new design employing Garmont's wrap-around, Alpine-style shell. The Helium matches the Mega Ride's weight pound for pound, and perhaps offers a tad more control on the downhill, though after a full day of testing I wasn't sure if I was imagining a difference or not. For me, the Helium was a disappointment. There was nothing about it that I could solidly point to as better than the Mega Ride, and I did miss the fourth buckle. That said, as far as I could divine, it delivers much the same performance up and down as the Mega Ride, with possibly a smidge more toe room up front.
I remain of mixed opinion on the two Scarpas, the Spirit 3 and Spirit 4. Both are inarguably built for ski mountaineering, with a range of specialized features suitable for big mountain adventures. Compared to the Spirit 3, the Spirit 4 adds a fourth buckle and better forward flex to almost exactly match the skiing performance of the Mega Ride. But Scarpa's rounded last will make for bootfitting challenges, and I got the sense overall that boot design has moved on a bit. In terms of fit and feel, the Spirits seem dated to me. They however remain very popular with the hardcore crew.
The Black Diamond Factor delivers easily the best downhill performance and feel of the entire group. In fact, it was quickly obvious there was no point in making direct comparisons between the Factor's ride and any other A/T boot. I chose instead to focus on comparing the Factor to my formidable Alpine racing beasts, the Lange L10. Remarkably, the Factor held its own against the L10. The only real knock you can level at the Factor is its weight: 9lbs 2oz per pair. The Factor will also likely benefit from another year or two of evolution to get some minor kinks out of its design.
I'm giving my 2010 King of the Hill award to the Garmont Radium. Yes, a pair of Radiums weigh half a pound more than a pair of Mega Rides, but you get a vast leap in downhill performance for the extra eight ounces. Stiffness in all dimensions is radically improved with the Radiums, allowing you to ski big skis and bad snow, and more importantly allowing you to ski them with the same mechanics as an Alpine boot. The Radium's stiffness does raise comfort concerns over the long haul; this might not be the boot for 18,000' vertical-in-a-day adventures. But the Radium nicely updates the Mega Ride's downhill chops while still preserving the soul of its predecessor.
— January 27, 2010
Andy Lewicky is the author and creator of SierraDescents
Scott January 28, 2010 at 4:04 pm
I can't seem to find where you define the "score" column in the spec chart.

Also, and I've always wondered this, who do you get to do your bootfitting in SoCal? Or do you do it yourself, baking your own liners?
Andy January 28, 2010 at 6:53 pm
That "score" metric is something new I'm playing around with. It's just a relative weight of my overall feelings about the boot, best used to compare one boot in the same class to another. Not sure if it's useful or not?

I have baked my own liners, and if I owned an actual thermo oven I'd keep doing it. But I've had good experiences at SureFoot Santa Monica. They send experienced fitters to L.A. from their Colorado stores, which makes a big difference. The only problem is, they're most experienced doing the Surefoot system, which is different from regular thermofitting. I also get fitting done when I go north, or to Colorado, but this introduces its own problems.