March 31, 2011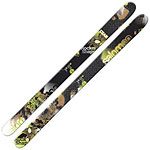 Salomon's damp-and-quick Czar delivers a powder ride so irresistibly smooth just one run might well turn you into a wandering deep snow nomad for life. So I warn you now: if you don't want to be forever haunted by memories of effortless best-day-of-your-life untracked snow billowing up around you, you might just want to stick to your present powder plank on the deep days rather than give the Czar a try (more…)
March 28, 2011
Back on the grid here after four fun-filled days at Snowbird, Utah. Weather really treated us well—it snowed every single day, but was kind enough to break yesterday for a dazzling dose of Wasatch powder. I wasn't planning on doing any work, but I ended up demoing a bunch of powder skis, and I learned a lot about what's out there. Not all rockered planks are created equal. More to come…
March 21, 2011
Both Mountain High and Mt. Baldy report 2-3′ of new snow this morning. If you can get to either resort today, I'm guessing you'll find reason to enjoy yourself. Snow Valley reports 24″ of new snow, but Highway 18 is basically shut down right now, with the dreaded chains-on-all requirement. Mammoth says just under 4′ of new snow fell in the last 24 hours, with 5-8′ reported over the past four days. Gotta love those insane Pacific storms. Looks like this one has locked up a stellar backcountry season for all of us well into May-June now. Nice!
March 20, 2011
With apocalyptic rain blasting the L.A. Basin, Mt. Baldy sounded like a disaster in the making, and the drive up to the San Bernardino Mts. sounded like even less fun, so why not buzz up the Palm Springs Tram and hope for some fresh snow? Snow forecasts for the San Jacintos weren't in the ridiculous 50+ inch range, as they've been for the San Gabriels, but still, even half that amount would be ripping (more…)
March 18, 2011
Our off-again, on-again winter returns this weekend, with a huge forecast that should hopefully turn our thoughts back to snow. Sunday night appears to offer the most potential for snowfall, with huge storm totals being predicted from the Eastern Sierra to SoCal…
March 16, 2011
Wednesday, 7:30 pm Pacific Time. There are currently two competing narratives regarding the nuclear crisis unfolding at the Fukushima nuclear plant in Japan. The first is that we are all looking at a huge success story—nature has thrown her worst at us, and our technology has survived with minimal loss of life or environmental consequences expected.
The second is a much darker, uncertainty-laced narrative that speaks to our deepest fears. Gregory Jaczko, Chairman of the United States Nuclear Regulatory Commission, now believes that many of the spent fuel rods stored at Fukushima are completely uncovered and actively spewing deadly radiation (more…)
March 15, 2011
Or, How I learned to Stop Start Worrying and Love Hate Nuclear Power.
The fear, initially, was that public reaction to the reactor accidents at Fukushima might scuttle the 'Nuclear Renaissance' blossoming across the globe as a necessary component in battling the threat of Global Warming. Could Fukushima's ultimate legacy be vast environmental damage caused not by radiation, but rather by turning public opinion against nuclear power generation (more…)
March 13, 2011
"In this vast and uncaring darkness, I am but a tiny, fragile spark of life, clinging to an illusion of safety that never was and never will be real…"
(Earthquake aftermath images at the Atlantic)
March 10, 2011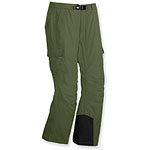 Outdoor Research makes a strong debut in the technical outerwear category with the Igneo, a sidecountry-oriented hard shell pant. The Igneo is made of Pertex's waterproof/breathable Shield fabric. It has a nice, middle-ground texture and feel: not too stiff, not too soft. The pant is lightly insulated in the seat and knees. In practice, you won't notice the insulation—it's very sheer. You will appreciate (more…)
March 9, 2011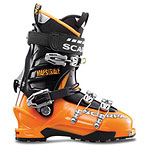 Scarpa's 4-buckle Maestrale ski boot strikes me as the true successor to the original Alpine Touring champ, the Garmont Mega Ride. While current trends in A/T gear have led steadily to ever-heavier boots, the Maestrale enters the game at a stunning six pounds, fifteen ounces per pair. But the critical question, as always, is: how does it ski (more…)