March 7, 2011
Believe it or not, this actually started out as a business-as-usual review of the Icebreaker Quantum Liner Glove. Occasionally, however, a truly unique piece of gear comes along, inspiring me to really dig in and go the extra mile (original accompanying music composed and performed by me).
March 7, 2011
Just taking a look at Telegraph Peak's north face in the San Gabriels this past Saturday. I've got an '04 or '05 photo showing this same view of Telegraph taken May 15, with huge coverage, which always makes for a good point of comparison.
How does this year stack up (more…)
March 6, 2011
One of my never-ending quests is finding an appropriate place to ski with my four-year-old son in SoCal.
We drove up to Snow Valley today, motivated by distant memories I had of high-quality easy intermediate terrain. As it turns out, Snow Valley is offering $199 Season Passes, good for the remainder of this year and all of next season (more…)
March 3, 2011
In cased you missed it, Andrew McLean put up an interesting chute-skiing tutorial video on his site a few days ago. I recommend checking it out. What I really like about the video is that it shows what real ski mountaineering/steep skiing often looks like: you traverse in, feel things out, discover conditions aren't exactly what you expected, and wind up spending the majority of your "skiing" using whatever techniques and tricks best work to get you down in once piece.
While I find Big Mountain Movie Skiing™ just as thrilling as everyone else, real, human-powered skiing deep in the backcountry is often very, very different (more…)
March 2, 2011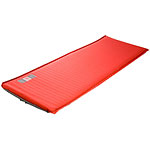 If you're in the market for an ultimate-warmth base camp pad, take a good look at Exped's SIM Comfort 10 DLX—and its outrageous 9.5 R-value. Exped's SIM Comfort pads come in three flavors: the 5 DLX, the 7 DLX, and the 10 DLX (the numbers correspond roughly to insulation values). As the name implies, these are comfort-oriented pads (more…)