October 22, 2011
I am very pleased to announce that my short film, The Couloir to Nowhere, is an official selection of the 2011 Internationales Berg & Abenteuer Filmfestival in Graz, Austria. While the tone of this post may seem rather dry and reserved, I am in fact quite over the moon with excitement and desperately trying to avoid using multiple exclamation points (more…)
October 20, 2011
Wow, was this a trip down the rabbit hole! That Landscapes video inspired me to create my own timelapse. Naturally, I thought shooting from the top of West Baldy at sunset would be perfect.
Turns out day-to-night timelapse is shockingly difficult. Within the quirky realm of timelapse photography it is known as 'the Holy Grail' (more…)
October 14, 2011
I have a lot of lists. When I realize there's something I need to do, I write it down so I won't forget. My list making exploded soon after I became a father, because the added complexity of tracking one (and now two) extremely fast and mobile and clever little persons 24-7 so taxes my poor mind that otherwise I'd forget things left and right. So: lots of lists, all done in my marginally-legible on-the-way-to-schizophrenic-conspiracy-theory handwriting (arrows included) (more…)
October 12, 2011
Yes it's time again for the storied Sierra Club Ski Mountaineer's Section Annual Potluck Dinner, this Saturday, October 15, at 5:30pm in La Canada. Trip planning for the 2011-2012 season, gear swap, board meetings, and of course some chow. New members or interested parties I'm sure are welcome to drop in. This is a fantastic resource for SoCal backcountry skiers, especially anyone interested in finding like-minded partners for the local mountains and beyond. More info and RSVP at the SMS site.
October 10, 2011
Dustin Farrell's 'Landscapes' features truly some of the most amazing night sky time-lapse photography I've ever seen, much of it done in good old Arizona. Who knew they had such pretty rocks to shoot over there? If I'm reading the info correctly, this was shot as RAW stills, not video frames, and (I hope!) batch-processed in Photoshop. Either way, this was obviously a hugely labor-intensive project. The resulting resolution is nothing less than dazzling—really a tribute to the potential of the 1080p spec and the low-light ability of a Canon 5d full-frame sensor. Stunning!
via Da Goat
October 6, 2011
"Are Space Monsters imaginary creatures?" my son asks this morning, waking me at the usual 6a.m. Hmm… That's kind of an interesting one. You see, if you believe that a Universe as big as ours has probably spawned life on planets other than just Earth, then there are Space Creatures out there, somewhere, and no doubt by my son's criteria, they are indeed monsters. So, maybe the answer is no, Space Monsters are not imaginary, they're real.
But that kind of opens a whole can of worms, so to speak, that might be best avoided. And this entire line of logical reasoning calls into question other assumptions, such as, are dragons real? I mean, if you're going with the infinite-combinations-in-infinite-diversity argument, there just might be a dragon (or effectively the same thing) living on some planet out there, somewhere. Hmm. Maybe the best answer right now is to just close my eyes and go back to sleep…

October 4, 2011
In the Palisades… And Mammoth Mountain reports 15″ of new snow on the ground.
October 3, 2011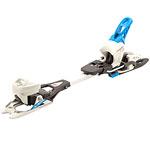 Fritschi's Eagle 10 and Eagle 12 (for maximum DIN setting) replace the Explore/Express bindings as the slightly-lighter alternative to Fritchi's hugely popular Freeride Pro Alpine Touring Binding. In either version the Eagle is a highly-evolved step-in A/T binding, with a design and feature set almost identical to the Freeride Pro (more…)