The Bonafide Strikes Back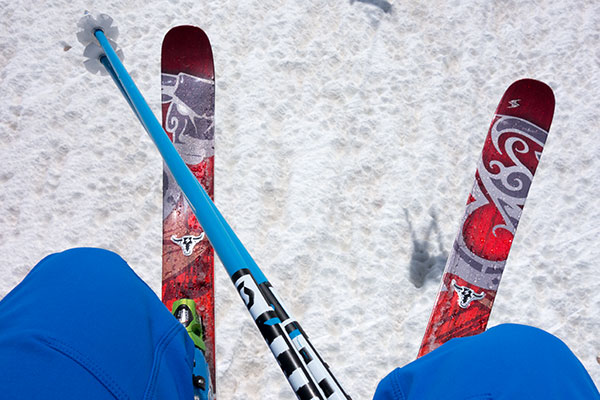 While I had a fine time breaking in my new Soul 7's two weeks ago, I ended that trip worried I'd just killed my Bonafides. How do the two skis compare, and can they coexist (peacefully) under one roof? There was only one way to answer that question—head back to Mammoth Mountain for some extended head-to-head testing.
After two fun-filled days on the slopes comparing both skis, I found myself thinking they are best understood as two different approaches to solving the same problem. That problem would be our on-again, off-again love affair with the notion of the one ski quiver: one Ring Ski to Rule Them All. To cut to the chase, both Soul 7 and Bonafide are outstanding skis. They just come at the goal from opposite sides.
The Bonafide begins with a classic GS carver concept and adds All Mountain versatility from there. The Soul 7 begins with a progressive Powder plank and then dials in carving ability. There is an incredible amount of overlap between the two skis because they both do their jobs incredibly well. Yes, the Soul 7 is a powder ski with fabulous carving ability. And if you never need more flotation than 98mm underfoot, you probably won't find a better powder ski than the clean-carving Bonafide.
So what is there to say when it comes to definitive distinctions between the two skis? First of all, the Bonafide is a better carver. Period. It is more nimble and snappy, it is a dream on long-radius turns across the hill, and it is surprisingly feisty when it comes to slashing slalom turns straight down the fall line. If you are a carver at heart, the Bonafide has got you covered in the All Mountain department.
I will mention what I believe is the ski's one weakness: it feels a little aft-balanced to me, possibly as a consequence of its flip-core rocker construction. I find myself feeling just slightly back on the ski, particularly on hard (ie, frozen) snow surfaces. It's hard to get on the tip of the ski. As things soften, that issues vanishes entirely, and at its worst, it's still fairly subtle, so you may never even notice it.
As for the Soul 7, the ski feels dead perfect center when mounted on Rossi's guide mark—wonderfully balanced for a ski with so many progressive elements. Overall, I say the Bonafide feels more traditional in character. The Soul 7 is undeniably a little bit New School, so for those of you who don't want even an ounce of Freakiness, be advised.
Ultimately, I think I'd break it down this way: if 98mm underfoot is all the floatation you'll ever need, the Bonafide reigns supreme. On the other hand, if you know you want more width, the Soul 7's 106mm gives you undeniably more float and very nearly the carving chops of the Bonafide. So, two great skis, no doubt about it. Good luck picking between them.
Andy Lewicky is the author and creator of SierraDescents
brad brown May 30, 2013 at 3:29 am
Cardiac event inducing article. Oh no Andy changed his mind, I'm lost in the wilderness-directionless, what to buy? Ah but reading further my faith once again kindles like the siren beckoning of an El Nino winters' dream. Packed or fresh inspired sticks, an elegant analysis. The 7 still seems like where I would start my best resort day in pow frenzy, though I do like the Super G wind in my face. Pray for a good year and a little more properity for all and I could show up with both! Thanks for the high angle research, I can't "afford" unproductive ski testing 'cause when it's on I must be ready.