More Thoughts On the Soul 7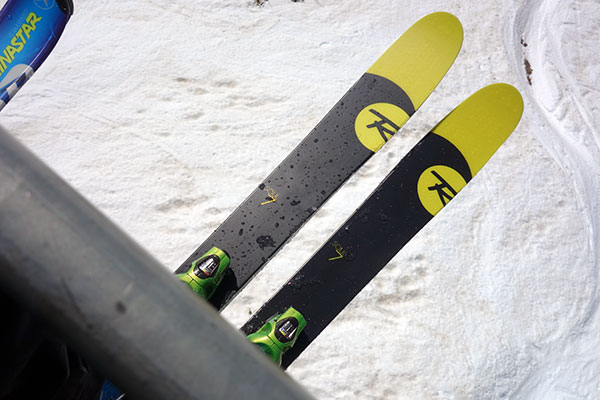 Rather than update my Soul 7 review, I think I'm just going to add some additional thoughts here. As expected, I did go ahead and buy a pair, and I paid with my own money. First of all, there's nothing I hate more than ski manufacturers making me bleed my own blood, but it does give me a liberating sense of freedom when it comes to making public comments about their gear.
A big concern for me, with the Soul 7, was whether or not it was truly an 'it' ski. I spent about an hour on a demo pair in Winter Park, but that just isn't much time, and it certainly isn't under diverse conditions, and I'm always a little worried as to whether or not my memories of SIA skis are going to pan out here at home. So I was anxious when I snapped into my own Soul 7's for the first time at Mammoth Mountain yesterday.
That anxiety resolved with remarkable alacrity. I'm not asking the Soul 7 to be a brilliant powder ski, to be honest. I want it to be a brilliant Mammoth ski. I want it to be credible enough on frozen early morning hardpack that I'm not cursing until the snow softens, and then as the day warms and things mush up, I want the ski to be an absolute monster on steeps, slush, and giant bumps.
In trying to formulate my thoughts on the Soul 7, I'm finding myself having difficulty believing my actual, on-the-snow impressions. It was that good! The Soul 7 might actually be more balanced on hard snow than the Bonafide. It is certainly outstanding across the mountain on soft snow, with abundant flotation, outstanding quickness, clean carving ability, and a just-right subjective zingy on-snow feel.
I have to point out that a pair of 172cm Soul 7's weigh eight pounds zero point five ounces on my scale (lighter than a pair of Kabookies and basically dead even with a pair of Nunataqs), making them a fantastically viable choice for the backcountry. Is this an It ski? I think it is. I think this is one people will be talking about (and riding) for a long time, and I think I'd be doing all of you a huge disservice if I didn't tell you to basically just go buy a pair now if you have any interest in this class of ski.
buy it: $699 at Backcountry
Andy Lewicky is the author and creator of SierraDescents
brad brown May 13, 2013 at 6:43 pm
The industry, you in particular, saved me from making what would have been a good decision a few months ago based on available data. Until now, my 1080 foils basically did what you describe in your Mammoth vision but seemed to be difficult at the 10-12" depth (though part of that is a technique issue I'm working out). I generally feel really confident in most conditions (best on soft)and had bought them at Mammoth (Footloose) for Mammoth (or Kirkwood). So I get your objective. This sounds like the next evolution. My style approximates yours (though in size large,skill small) so I have a really good sense of what this tool can do for me next year. Thanks so much, it's way more than just the money, it's the lost time experimenting on mission critical pow days.
brad brown May 13, 2013 at 6:59 pm
Oh yeah, what's your thoughts on length (200 lbs, 6-2). I'm still stuck in old ski on this subject but I'm running 182 now.
Andy May 13, 2013 at 7:42 pm
I'd think you're right around your ideal length with a 180cm
brad brown May 13, 2013 at 10:14 pm
Thanks
Andy May 13, 2013 at 10:40 pm
Brad, if you get a pair be sure to write back and let me know what you think of them!
brad brown May 14, 2013 at 5:22 am
Will do.
Dave May 16, 2013 at 12:17 pm
Hi Andy,
Given the Mammoth comments, I take it you have gone for alpine bindings over AT?
I live in Europe and your initial review got me interested, though was thinking more a 95 to 100mm ski. there is the Sin 7 at 98mm but it doesn't appear to have the honey comb tip/tail. Any insight to why the Sin 7's don't have or perhaps don't need the honeycomb tip/tail?
Was looking for the ultimate one ski quiver for restort & AT, as flying with more than one pair of ski's (& a kid) is a pain. To complete, I'd like to see the Cast SI & I binding system to have swap plates for toe and heel for a do it all set up. Not concerned about AT binding up, alpine down as Cast intend, i'd use seperate bindings for seperate days, just like the ease of the swap compared to inserts or swap plates.
Andy May 16, 2013 at 4:55 pm
Dave it's about 95% I'm going to buy a second pair of Soul 7's to use with Dynafits.

For your one-rig solution in the 98mm range I'd strongly recommend a Blizzard Kabookie. However: what I wasn't expecting is how competitive the Soul 7 at 107mm is with the Bonafide/Kabookie. I'm going to do more testing on that subject, because right now I'm having trouble believing my own results. Check back later for more on that subject...
Vince May 22, 2013 at 2:03 am
I'm thinking about putting Marker Barons on these for resort and short touring. Any thoughts on this?
Andy May 22, 2013 at 2:34 am
At my lighter body weight, I've been happy with my Marker Tour bindings inbound, so I'd lean toward those unless you feel you need the extra strength/weight of the Baron.
Vince June 16, 2013 at 6:01 am
Have you been using Tour F12s as an everyday in- bounds ski? I've got some barons but am thinking its kind of crazy to put this heavy binding on a light ski Ike the Soul 7. Thinking about just going with Griffon, but the idea of Tours seems good if they can hold up and perform in resort conditions (hardback , bumps, etc).
Andy June 16, 2013 at 2:04 pm
I have used the Tours inbounds on my powder skis, and they seem fine. I put Look Pivots on mine. These are light for an Alpine binding, and performance/safety is outstanding. If I get a second pair for touring, I'll put Dynafits on them and then weep about how much $ the Soul 7 has cost me. :)
Steve February 15, 2014 at 2:25 pm
@178cm & 58Kg (128lbs) I am enjoying the Volkl Mantra 170cm & slight rocker with a NTN freedom telemark set up. However a little more floatation and a slightly softer flex would help in certain situations. You have previously enjoyed the Mantra and are similar to me in body mass, how have you got on throughout this season with the Soul 7, are you still keen?
Andy February 16, 2014 at 2:24 am
Steve, here are my thoughts from this year's SIA:

http://youtu.be/lzKVkIwdFqA
Steve February 16, 2014 at 4:24 pm
Thanks for the viewing and thoughts on the Soul 7 which I demonstrated in adverse conditions with alpine set up. I also concluded that the 2012 Mantra was better on edge in bounds than the Rossi, but quickly found the latters sweet spot on the piste. Till the Mantras get trashed they will have to do.
Ron S January 14, 2015 at 7:41 am
Hi. I am curious if you mounted a pair of Soul 7 with Dynafit (or similar) for your AT setup and how do you like it? If not what did you choose instead? Thank you.
Andy January 14, 2015 at 4:06 pm
I thought about it but went with a different ski (the Huascaran) for variety. I have heard that the Soul 7 tops can tend to collect snow, but otherwise this is a brilliant ski for powder touring and I wouldn't hesitate to recommend it.
Liam February 20, 2015 at 10:51 pm
I'm not exactly the regular skier build and was wondering about size. Im 5'7 and 175 pounds, should I go with the 164's or the 172's?
Andy February 21, 2015 at 12:03 am
I think the Soul 7 skis pretty true to its length, so if you already know what your size is, you can probably go with that. If not, and if you're a strong skier, I'd pick the 172's. Best of all would be to demo a pair and be sure you're getting the feel you want--good luck!
Larry April 24, 2015 at 11:56 pm
Also wondering about size, and was surprised about the 172 recommendation for someone 5'7, 175lb. I'm 5'9, 150lb, and my impression is that 180 would be the typical recommendation??? What would be the most noticeable ups/downs with the 172 versus 180 (I also ski Mammoth, so I wonder about about differences going down Scottys or Climax).
Andy April 25, 2015 at 12:13 am
Larry, short answer is go to Footloose and demo a pair.

Longer answer is, back in the day I wouldn't consider a ski under 200cm (that was my slalom length!), but I've reformed. For this class of ski, I've come to value quickness across the fall line over stability at high speed. For that reason, for skiers of "normal" size, I've come to think of ~170cm as a "normal" length. But...you should still go pay the $50 at Footloose to demo a pair and make sure you get the length dialed in.

Apologies for the 2015 season! See you guys next year...