Renaming North Pal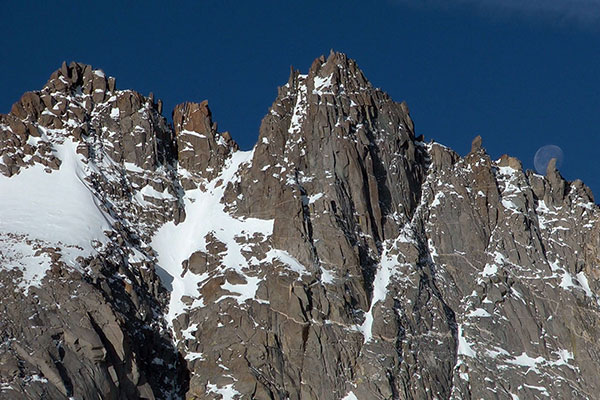 The Los Angeles Times has an article on efforts to rename North Palisade as "Brower Palisade." With an elevation of 14,242', North Pal is California's fourth-highest mountain and the Sierra's signature mountaineering objective—Whitney nothwithstanding.
The name change, intended to honor David Brower, environmentalist and first Director of the Sierra Club, has some powerful backers, including (according to the Times article) California U.S. Sens. Dianne Feinstein and Barbara Boxer, Yvon Chouinard, founder of Patagonia, and climbing-guide author Steve Roper.
As you might suspect, many others are not so pleased with the proposal.
In the U.S., renaming mountains is generally made prohibitively difficult by the USGS, though there are exceptions. Arizona's Squaw Peak was renamed Piestewa Peak after Army Spc. Lori Ann Piestewa, the first Native American woman to die in combat in the US military.
While that effort was not without controversy, it was eased first by the fact that Piestewa was a war veteran, and second that it was less a renaming than a name adjustment. For many people, "Squaw" was a slur both gender and race-specific. Changing the name to Piestewa was a nice way to remedy that issue.
In contrast, renaming North Palisade after Brower addresses no such inequity.My first thought, hearing of this, was: don't they have something better to do? Given the myraid environmental challenges, issues, crises current facing not just the Sierra but the US and world beyond, can't those who carry on the legacy of David Brower find a more important—more relevant—way to spend their precious time, money, and energy?
It just seems so...inappropriate.
There are plenty of unnamed peaks in the Sierra which could have been chosen to honor Brower instead. How does it honor the memory of one of our nation's pioneering preservationists to ram a name change down the throat of unwilling climbers and mountaineers all across the globe?
In attempting to strip North Palisade's name, supporters of the effort imply that nothing less than a peak of seminal importance will do for their honoree—and it doesn't matter if that peak already has a name with a rich history. The 'Brower Palisade' proposal thus calls exactly the wrong kind of attention to the man. It is self-serving, self-important, arrogant. It ignores the bigger picture. It is wrong.
That's my opinion, at least.
Andy Lewicky is the author and creator of SierraDescents