January 11, 2013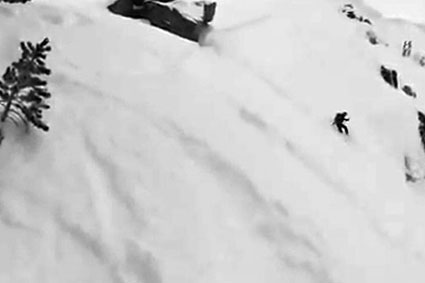 By now you've likely seen this video of an avalanche that trapped one skier on Echo Peak in the Tahoe Sierra on December 30, 2012. This is exactly the kind of video that tends to polarize opinions—the party members display a startling lack of familiarity with their avalanche gear (gear in general seems to prove endlessly problematic), and almost no knowledge of avalanche rescue protocols (more…)
February 14, 2012
Great sadness fills me as I learn that 38-year-old Telluride resident Nate Soules was killed by an avalanche yesterday in the Bear Creek backcountry. The Telluride Watch says Soules was wearing an airbag pack, which he successfully deployed. However, the airbag was reportedly found by rescuers in a 'shredded' condition (more…)
February 9, 2010
Following up on my post about my reluctance to take an avalanche course, I thought it would be appropriate to talk about what finally motivated me to bite the bullet and go take one. For starters, the opportunity presented itself. I had the money saved up, and I had some free time which coincided with dates that SMG was offering a Level I class. Also important given the past few winters, there was 'interesting' snow in the Sierra, with a big storm on the way. Conditions were good—who wants to take an avalanche class when the mountains are bare or boring? (more…)
February 2, 2010
Jeff Pierce will be teaching two Level I avalanche classes and a Level II this February and March in Southern California. The schedules are:
Level I — Claremont
Classroom Session: Feb 16 and 18 (6:00-10pm in Claremont)
Field Sessions: Feb 20 and 21st (8:00am to 4:00pm Mt. Baldy)
$150
Level I — Snow Summit
Classroom Session: March 7th at the patrol media room (8:00 – 4:00pm)
Field Sessions: March 13 and 14th (Snow Summit Area (8:00-4:00pm)
$150
Level II (TBA)
Classroom Sessions will begin weekdays at the end of February (Claremont)
Field Sessions will be in March (Mt. Baldy Area)
Four Classroom Sessions (Tues and Thursday 6:00 – 10PM)
Four Field Sessions
$225
This is a terrific year to get out there for an avalanche class, as we've got abundant snow in mountains both near and far. For SoCal skiers, one big advantage of taking a class locally (in my opinion) is that you're working directly with the snowpack you're most likely to be skiing. Also, obviously, it makes fitting the class into your schedule quite a lot easier. And odds are good you'll meet like-minded folks who'll make good backcountry partners down the road.
Jeff's courses are not AIARE-certified, but they are a tremendous bargain (especially that Level II class). Jeff has been teaching Level I and II avalanche courses for 11 years, and he has over 23 years experience in the field, including consulting for local resorts and government agencies as well as doing control at Mount Waterman and June Mountain ski areas. I attended one of Jeff's avalanche seminars for rescue professionals last year; it was well-run, and well worth the time. If you're on the fence about taking a class, this is a great opportunity. I highly recommend taking advantage of it.
For more info or to sign up, contact Jeff Pierce.
January 21, 2010
One of the questions that occurred to me while taking an AIARE Level I avalanche class this past weekend was, "What took so long?" I actually think that's an intriguing enough question to warrant some attention. Why was I so reluctant to take an avalanche class? I've certainly been interested in avalanches for some time—and I've especially been interested in avoiding them (more…)
January 11, 2010
This coming weekend I'll be up north taking my first-ever avalanche course, an AIARE Level I offered by Sierra Mountain Guides. While I've probably picked up a good deal level I and higher info over the years, there are a lot of holes in my knowledge. I also thought it would be valuable to write about the experience of taking the course, which might inspire others to improve their own avalanche education. I must admit I've had a lot of reluctance to do this—more on that later. For now, I'll say that many of you probably have exactly the same concerns about taking an avy course as I do.
Locally, I skied inbounds again this past weekend to continue my never-ending boot tests. I should have reviews up for the Radium and Helium soon. The Spirit 4 Review is here. Conditions in the backcountry look depressingly similar to par for the past few years. You'll need a little creativity and a lot of effort to find snow in the San Gabriels. Baldy Bowl looked pretty burnt. The north face has good coverage, though I assume most of it is ice (which may be true of other aspects as well. That's it for now.
July 15, 2009
Lou at wildsnow.com has an essential post on how various electronic devices interfere with avalanche beacons. The quick hit on this is that several commonly carried PED's, such as cell phones and Ipods, can render your beacon useless in search mode. Since this information is both critically important and horribly out of season, I'll try to link back again once winter arrives. In case I forget, make sure you read—and remember—Lou & Jonathan's article.
March 24, 2009
A Beacon Search
"Hasty Search" was originally the title given to the first location effort in a search and rescue operation. This phase, obviously, takes place after a qualified individual has assessed conditions for existing hazard and the decision has been made to put people into the search area.
Hasty search has now been renamed "Immediate Search," presumably because of unwanted connotation with the word haste (ie, careless), but I like the original terminology, as it best captures (in my opinion) the priorities of this phase of the rescue (more…)
March 19, 2009
Baldy Bowl Avalanche
One of the most jolting things I learned this past weekend at the Southern California National Ski Patrol's one-day avalanche rescue course was, paradoxically, the importance of self rescue.
By "self rescue" I do not mean cultivating the magical ability to dig oneself out of an avalanche, but rather rescue initiated and completed by members of the actual party involved in the avalanche (more…)
March 18, 2009
Last Sunday I participated in a one-day avalanche rescue course offered by the Southern California National Ski Patrol. This course was specifically intended for rescue personnel who might be called upon to participate in an actual avalanche incident. Over a hundred people attended, including members of regional agencies like police and fire, and also numerous search and rescue organizations in Southern California.
The primary goal was to offer a crash course in avalanche fundamentals culminating in a mock burial and rescue walk-through. A secondary but perhaps equally important goal was to facilitate communication and coordination between these separate agencies. While I was obviously not representing a rescue agency myself (if anything, I represent the client side of the equation), I found the experience highly rewarding (more…)