March 18, 2009
Last Sunday I participated in a one-day avalanche rescue course offered by the Southern California National Ski Patrol. This course was specifically intended for rescue personnel who might be called upon to participate in an actual avalanche incident. Over a hundred people attended, including members of regional agencies like police and fire, and also numerous search and rescue organizations in Southern California (more…)
March 10, 2009
On Sunday, March 15, there will be a one-day introduction to avalanche safety and rescue class held in Wrightwood, California by the Southern California National Ski Patrol. The class runs from 8 a.m. to 4 p.m., and is intended for professionals who operate in areas known for avalanche terrain, such as SAR teams and other rescue organizations. The course includes classroom and field sessions, and the fee is $15.00 (to cover course materials).
February 17, 2009
Avalanche professional Jeff Pierce will be teaching a Level I avalanche course in the Southern California region next week, with classroom work scheduled for 7-10 p.m. February 24 and 26, and in-the-field work on Feb 28 and March 1 at Mount Waterman. Price including lift ticket is only $200. According to Jeff, the course will be a modified Level I with more emphasis on snow pit study and stability tests (more…)
January 17, 2009
Black Diamond has posted a POV video of skier Chris Cardello getting caught and buried in an avalanche in Haines, Alaska. Chris was wearing a Black Diamond Avalung at the time, and was able to use it to breathe beneath the snow. Others in Chris' party found and dug him out in a speedy five minutes—though watching the video, five minutes seems a long time indeed (more…)
December 29, 2008
According to the Jackson Hole Daily, a skier was killed Saturday, December 27, at the Jackson Hole Mountain Resort by an in-bounds avalanche, making this the third in-bounds avalanche fatality of the 08-09 season. Statistically, in-bounds avalanches at ski resorts are extremely rare. Three such incidents at the start of this year's season can thus be viewed as either a dramatic anomaly…or perhaps an early warning of a disturbing new trend (more…)
December 15, 2008
The Eastern Sierra Avalanche Center has issued its first Avalanche Advisory for the 08-09 season. And the verdict is…Insufficient Data. But it's a start!
(Sue says she should have some field observations up later this week)
August 5, 2008
On August 1, 2008, Hermosa Beach climber Nicholas Rice awoke after a freezing night at Camp IV and made his way to just below the "Bottleneck". Rice, 23, was attempting to climb K2, the world's second-highest mountain, widely considered one of the world's most difficult summit (and one of the most deadly) (more…)
March 12, 2008
This morning, I spoke with Jeff Pierce, who was the Site Commander for two of the three avalanches that took place in the vicinity of Mountain High ski area on 25 January 2008 in the San Gabriel Mountains. Jeff was also kind enough to share photos of the scene (more…)
March 7, 2008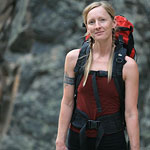 A Dozen More Turns is one of those rare films that gets under your skin. I admit to being an expert when it comes to finding ways to avoid thinking about consequences (Andrew McLean calls this "creative rationalization"), but ADMT managed to grab me in a way no other avalanche film ever has. As a piece of filmmaking, A Dozen More Turns could have gone wrong at any number of turns (more…)
January 27, 2008
Today's Los Angeles Times has more coverage on the Mountain High/Wrightwood Avalanches, with some commentary from avalanche professionals:
"There have been avalanche fatalities since people have been in the Alps, but what has changed is the equipment has gotten better and there's a lot of hype associated with the outdoor retail industry," said Sue Burak, an avalanche forecaster for the Eastern Sierra Avalanche Center. "They're encouraging people to go out, and the level of backcountry skills haven't caught up with the technology."
And:
"In Southern California, having these big dumps of powder are not real common," said Northwest Avalanche Institute expert Paul Baugher. "And so there's two things going on here. One is, people are sort of unfamiliar with how dangerous this can be. Even if you're a professional, you don't have that experience of actually seeing these [avalanches] released. On top of that, it's so rare. It's wonderful skiing, and you're drawn to that."
Here's the full article.
→ More SierraDescentsPrevious Posts ↵