January 26, 2008
Three people died yesterday in at least two separate avalanches near Mountain High ski resort, in the San Gabriel Mountains. According to the Los Angeles Times, the incidents occurred in Government and Sawmill Canyons, both of which border Mountain High East. These Canyons, which are out-of-bounds, are treed but relatively open. Both canyons run north-south. At this time, I've seen no reports on which aspects slid, though it would be reasonable to suspect something northeasterly (more…)
January 17, 2008
It's not exactly cutting-edge Gonzo filmmaking, but this helmet-cam video (edited by the Telluride Daily Planet) is certainly a poignant reminder that sometimes those annoying "cliff" signs really do mean…Cliff.
Earlier this season two young skiers from Texas decided to duck under the rope at the extreme west end of Telluride's Gold Hill, tempted by the sight of untracked powder. Being members of the tech generation, they naturally decided to video themselves, which was no doubt of great value to the sheriff's department. Both were subsequently charged with Reckless Endangerment.
The video does run on the long side, at eight-plus minutes, but the moment when they break through the trees to discover their line is completely cliffed-out is priceless. Soon after that, they trigger an avalanche that knocks one of them over the cliff (this part of the mountain is closed, after all, not only because of the cliffs but also the extremely high avalanche danger).
Incredibly, neither kid was seriously injured, though their effort remains a potent entry for this year's Darwin Awards.
January 10, 2008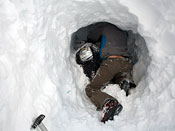 Photographer Todd Weselake was caught in an avalanche on January 7 while snowboarding the north ridge of Mt. Proctor in British Columbia, Canada.
Weselake was carried approximately 300 meters downslope, and buried two meters head-down (more…)
January 5, 2008
Locally, it looks like snow levels have stayed high thus far in the San Gabriel Mountains. Consequently Mountain High says they're closed and the Mt. Baldy Website is down. That makes it hard to predict what's going on at higher elevations, but even if heavy snow is falling above 9500′, heavy rain has likely destroyed much of the existing snow at lower elevations.
The same can not be said of the Sierra. This looks like a storm for the books, with ESAC reporting several feet of dense snow has fallen throughout the Sierra in the last 18 hours—and another 2-3 on the way.
These giant snowfall totals in such a short time, coupled with extreme winds, make large, dangerous avalanches a virtual certainty in the backcountry. As ESAC forecaster Sue Burak says, "It really is foolish to think about skiing anywhere except Mammoth Mountain."
March 4, 2007
We made the long drive to Mammoth Mountain this past weekend, where the view was dominated by two 'mammoth' in-bounds climax avalanches.
Given the overall lack of expected avalanche activity following the most recent storm cycle, these two slides were a dramatic indicator that there is indeed a depth hoar layer lurking along the ground on northern aspects in the Sierra.
It's hard for me to feel much enthusiasm for venturing into the backcountry after examining the slides. Hoar layers such as these can persist long into spring. Moreover, they are almost undetectable: buried two or more meters beneath a consolidated snowpack that may otherwise feel perfectly safe.
In fairness, a skier's weight is probably too trivial to trigger slides like these—unless you happen to hit the slab in just the right place. For now, I think I'll avoid skiing steep north slopes in the Sierra backcountry.
April 18, 2006
What good is a record-setting snowpack if you can't ski it? That's the question some Sierra skiers may be asking, especially after yesterday's in-bounds avalanche at Mammoth Mountain.
Surveying the Southern Sierra this past weekend, I was stunned by the amount of snow I saw. Skiable lines were appearing in places that are normally bare rock—Langley's north face, for example.
Yet beneath that gleaming white surface lurks an unusually quirky snowpack. The sheer depth of the snow seems to be slowing the consolidation of deep, unstable layers, even now, well into April.
Up top, the over-abundance of snow is getting cooked by warmer and warmer days, threatening massive wet slides. So we have wet slide and slab avalanche potential. What's a Sierra skier supposed to do?
I'm guessing we'll know more about the snow in a week or so, provided the storms finally fade away. For now, it's probably best to consider the snowpack a hybrid of winter and spring—and a very unpredictable one at that.