August 25, 2009
Matt DiPietro's blog, sierrajournal.com has debuted a new look and added functionality. Sierra Journal started as primarily a backcountry skiing website, but has grown nicely into a source of broad news and features on the Sierra year-round. And of course, you'll also find regular inspiring reports from yet another cool climbing or skiing trip that Matt has failed to invite me to join.

Matt's goal with the new design is to emphasize community building. Sierra Journal adds a new forum space, plus other interactive goodies intended to get visitors involved in the site's evolution.
December 12, 2008
Good news in the online backcountry media world: Backcountry Magazine and SierraBackcountry.org are in the process of making major updates to their sites. Backcountry Mag is already up and running, with an emphasis on facilitating user-provided content. You'll find it much easier to share your own stories, videos, and pix on the Backcountry Mag site (more…)
August 14, 2008
Andrew McLean has a new blog online: straightchuter.com, filled with an abundance of McLean's ski mountaineering tips and techniques. As content goes, Straightchuter is lean and focused: you get tips and gear and more gear from McLean (more…)
July 27, 2008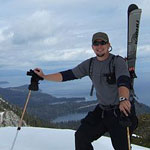 One of the blogs I enjoy reading on a regular basis is SierraJournal.com, run by Matthew DiPietro, a Bay Area tech and communications specialist.
Matt seems to have a knack for finding interesting and news-worthy backcountry tidbits to write about, and does a far better job staying on topic than I ever could (more…)
May 31, 2008
If you've searched the web for information on a trail or peak, chances are you've come across a listing from Trails.com, a subscription-only website offering trail information and topo maps. For $49.00 per year, Trails.com claims to give you unlimited access to over 40,000 trail guides and topo maps for the U.S., Canada, and Mexico (more…)
November 11, 2007
Here's a nifty blog I found over at the New York Times: Dot Earth. In this environmentally-oriented blog, reporter Andrew C. Revkin "examines efforts to balance human affairs with the planet's limits." As you might imagine, the topic of Global Warming figures heavily in the examination.
Today's DotEarth blog entry discusses the new SimCity Societies
video game. The better simulation video games are surprisingly realistic—often leading you to new and unexpected realizations of macro phenomena.
For a classic example, consider the original Civilization, one of the best early simulation games…