North Palisade via the U-Notch — Page 10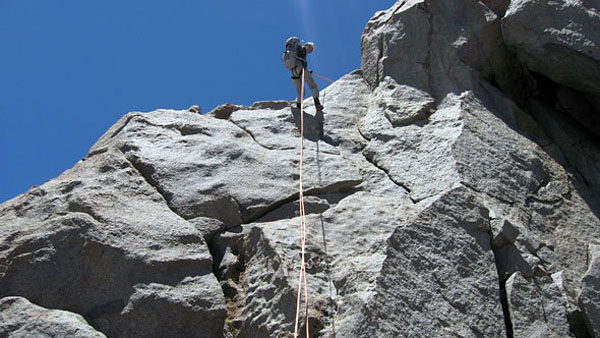 X. On Rappel
For safety, Neil will set up my rappel device, place me into position on the rope—and then go on ahead, rappelling first, so as to tension the lines for my descent.
And so I am dangling above the void. Dangling as in Christmas tree ornament, as in netless trapeze artist, as in helpless foolish pitiful human who suddenly finds himself a very long, long way from home. In mountaineering, accidents occur during the descent with far greater frequency than during ascent.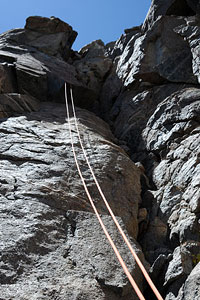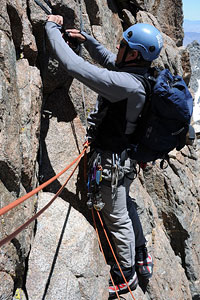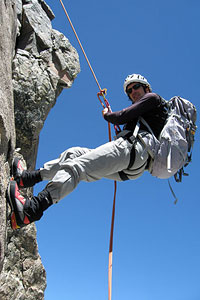 And, in mountaineering, the single most dangerous activity on descent, statistically speaking, is the rappel. Thanks to my armchair interest in studying mountaineering accidents I am aware of this fact, which seems of no good use at the moment for anything other than enhancing my sense of terror.
To be fair, however, rappel accidents happen not typically because of gear failure but rather because of technique errors.
Climbers commonly rappel off the end of their rope. They rappel with equipment they are unfamiliar with, with equipment that is worn or damaged, with ropes, anchors, or webbing that is worn or old.
Objectively speaking, these are the real dangers of rappelling—though currently my mind is not in the least interested in objectivity. No, the human animal in me points only to the yawning drop below, a hundred or more feet straight down onto sharp rocks.
Neil reaches the bottom of the rappel and shouts up to me to start down.
I feed the rope through my belay device, satisfied with the system's friction, carefully stepping backwards down a vertical rock wall. Perhaps what is so overwhelming about rappelling (to me) is the lack of wiggle room.
If I were downclimbing this rock right now (which I certainly would not wish to do), I would at least have a sense of control over my fate.
I would sense that it was up to me to pick good places to put my hands and feet. I would sense that if something were to go wrong, it might be possible, via some sort of heroics, to grab a new hold, to throw my leg thus into a crack, to maintain control.
But on rappel, all the eggs are in one basket. A failure at any point in the system equals GAME OVER regardless of heroics. We might liken rappelling to flying on a commercial airliner, and downclimbing to driving a two-lane highway.
Statistics tell us flying is safer than driving, but if things are going to go wrong, you can bet I'd rather be inside my Civic with my hand on the steering wheel than strapped into the fuselage of a Boeing 737 at 29,000 feet. My whirling mind gradually quiets as Neil and I successfully make a series of rappels. Though I cannot say I become exactly comfortable with the process, I do find a certain enjoyable fascination with it: this walking backwards straight down, this elevator-like descent.
Through it all, Neil's presence—and experience—proves to be an essential source of calm for me. Doing North Palisade not by myself nor with friends nor acquaintances but rather with a trained professional has proven its worth a thousand times over to me. In particular, climbing with an AMGA-certified guide has passed from theoretical to concrete benefit.
Since the start of this trip I have been relentlessly observing and recording everything that Neil has done. In the process of this baptism by fire, I realize now that I have gained a fine start, at least, toward my goal of learning technical alpine skills. With Neil's help, I have built a solid foundation upon which to develop future skills, if I so choose. Given everything else I've gained from this trip, it seems to me a spectacular bargain.