North Palisade via the U-Notch — Page 11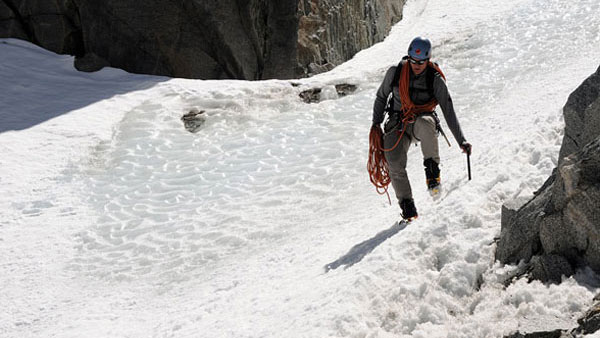 XI. Downclimb
From atop the U-Notch Couloir, Neil and I have about 700 vertical feet of snow and ice to downclimb, at which point the day's technical climbing will come to an end.
Where the snow in the couloir is soft, we downclimb it, roped but not anchored, using plunge steps. Where the snow turns to ice, we rappel. As a skier, I can't help but look at downclimbing snow with a certain air of disdain, but the terrain we are traveling lies well within my skill set now (that is, off the rock), and I feel confident and content.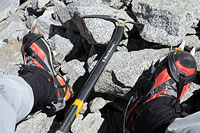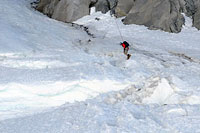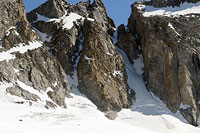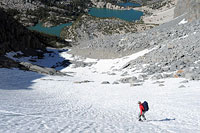 A little tired, too. In a way, I find our descent of the U-Notch Couloir perhaps the most sheer fun we've had all day. The bulk of the work is done.
Our achievement percentage has improved from 65 to now well over 90, there is no more huffing and puffing of breath, just this steady easy descent on sparkling white snow beneath a glorious Sierra blue sky.
All of these feelings (to interrupt the serenity) are exactly what make descending so dangerous. The mind and body relaxes its guard—but the exposure through this section remains considerable.
I, a skier, am especially vulnerable to this phenomenon exactly because I feel so comfortable on angles of snow.
Neil relates a story from another trip up this same couloir:
He and a party he was guiding watched a would-be skier solo up the couloir.
Midway up, the skier caught his crampon points on his ski pants and tripped. Accelerating down what was now obviously steep, hard snow, the skier tried to self arrest with an axe.
But the skier's crampon points caught once again, this time on ice, violently flipping the skier up into the air.
The skier slammed back into the snow, and yet again the crampons caught, this time stopping him at once just a few feet above the gaping bergshrund. From there, the skier downclimbed back to the glacier and (presumably) did not return.
So mind your steps, U-Notch climbers—especially as winter snow turns to glistening summer ice! Neil and I experience no such mishaps during our descent. After crossing the snow bridge across the bergshrund, we trudge downhill through sloppy-wet snow and avalanche debris until we've passed the apron of the U-Notch Couloir. Here, we are no longer exposed to falling debris from above, and so we take a break.
For the last time, I untie from the rope. We've done it—add North Palisade and the U-Notch to the list. It remains a long 2500 vertical feet or so back to camp, where we'll spend the night, but my tired legs are buoyed by the tremendous sense of accomplishment I feel.
To keep my spirits up during the long slog back to camp, Neil suggests a standing glissade competition on the steep but soft snow above Third Lake. Despite my fatigue, I do my best to Represent, going for extra style points by attempting (with some success) to figure-eight Neil's attempts to make ski turns while glissading.