North Palisade via the U-Notch — Page 12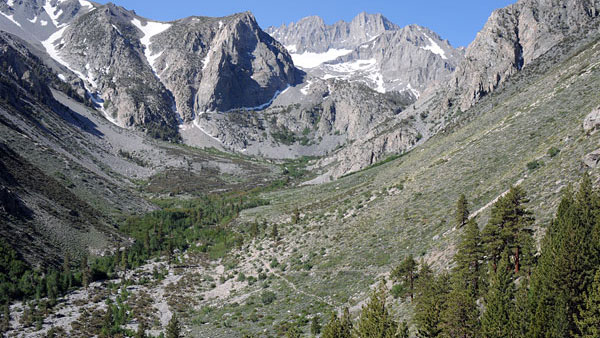 XII. Palisade Review
Neil and I arrive in camp as afternoon shadows push their fingers across Third Lake, signaling the end of a long but inarguably magnificent day. Neil makes a run to the lake to fill our water bottles.
I pull off my boots and socks and air out my toes. Soon, Neil and I are sitting amidst strewn climbing hardware, sipping hot drinks, sharing our perspectives on the day's adventure. For me, my brief foray into the realm of technical alpine climbing has made a lasting impression.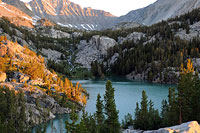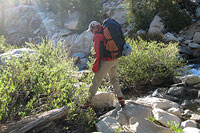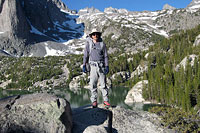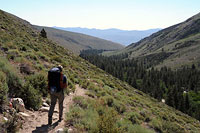 Perhaps the most surprising aspect was how natural the climbing felt. While on the rope, I felt as if in a cocoon, insulated from the world (and exposure) around me, able to focus only on the problems of ascending rock.
On the other hand, my feelings during our rappels, while not entirely unexpected, were certainly intense. Climbing ice and snow in the U-Notch Couloir was highly enjoyable for me, albeit made a bit more challenging by using Alpine boots.
I ask Neil a few questions about technique, then a few more, wanting still to soak up as much of his technical knowledge as possible. Many of the skills I've learned on this trip, I know, will prove invaluable in trips yet to come.
As for things I'd do differently...
In hindsight, it may have been prudent to pick up some technical rope skills beforehand—say, in a less committing environment. Another suggestion: you hear this every time, but, yes, I wish I had been able to arrive in better physical condition.
I had planned on doing more training hikes and exercising before this trip. Instead, I arrived in decidedly mediocre condition—by my winter standards, at least. Certainly, I wish I had been more acclimatized to the elevation.
If you live at sea level, as I do, this is largely beyond your control, though new research does suggest that camping high (ala 8000 feet or more) even once a month can confer some benefit. I felt the altitude affected me most during the first day and especially the first night at camp. Tonight I sleep much easier, watching the light slowly fade on Temple Craig's Dark Star buttress (Said Neil: it felt like Darkstar was our bedpost). The following morning we pack up early and hit the long trail home.
Much of what makes the backcountry so special is simply not readily expressible. The countless hardships and pleasures of mountain travel add up to more than their individual sum. Crushed sandwiches and blisters and bug bites and summits and rock and snow become together something that can not be found anywhere else—and yet something that remains with us when we return to the lowlands. Finding and sharing this gift of the backcountry is the business, I think, that Neil has committed himself to, more so even than the technical rigors of mastering rock and ice.
SierraDescents extends a hearty Thank You! to Neil Satterfield and the entire Sierra Mountain Guides crew for an overwhelmingly positive experience—and a safe and successful summit!.