North Palisade & the U-Notch Couloir — Page 2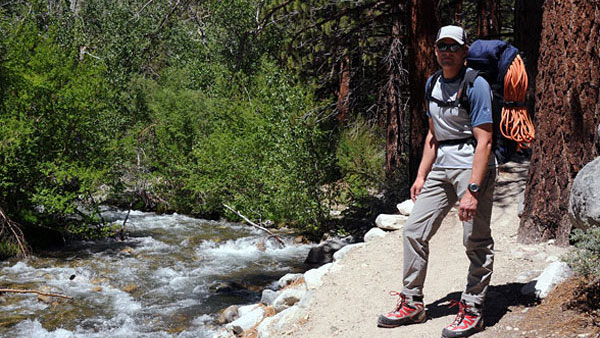 II. Sierra Mountain Guides
Shortly after I skied Lone Pine Peak's East Couloir, I received a note of salutations and introduction from a company called Sierra Mountain Guides. The timing was perfect.
All my Sierra books were on the nightstand, and I'd been repeatedly paging through them looking for interesting summer projects. From that first email Neil and I now find ourselves at the front end of a joint venture to climb one of the most classic routes in the Sierra: North Palisade via the U-Notch.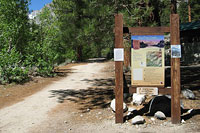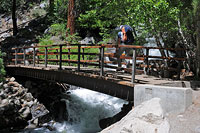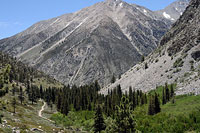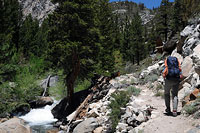 We shake hands and head inside the Country Kitchen for a pre-trip fuel up on eggs and hash browns. Once we're seated, Neil begins by asking what my expectations are.
Hmm...I'm a bit stumped by the question.
In truth, I'm a little nervous. I'm worried about my lack of technical climbing experience, my lack of formal mountaineering training, my overall physical conditioning (which is currently far from elite), my desire to climb well in the company of such a highly trained and skilled mountaineer.
All this plus the fact that I've never been on a guided climb mean I'm about to dive into an entirely new world. I really don't know what to expect—and maybe that's the starting point to answer Neil's question.
I'd like to learn as much as possible about technical climbing, rope work, ice climbing, glacier travel. And finally, I hope to make the summit and come back down in one piece, so as to write about the experience and possibly inspire others to take part in such inexplicable ventures.
The day is already warm when we arrive at the end of Glacier Lodge Road, elevation 7820'. We pack our gear and hit the trail, with Neil setting a comfortably modest pace alongside the rushing water of Big Pine Creek.
Finding a good guide is perhaps not as straightforward a matter as you might imagine. In California, professional guiding is regulated separately by each individual forest jurisdiction, without any standardized training or licensing requirements.
In contrast, the Sierra Mountain Guides company puts special emphasis on training and certifying its guides. Neil has just completed a three-year effort to earn UIAGM/IFMGA guiding certification in skiing, rock climbing, and mountaineering. It's obvious, even here in the early going, that Neil takes his responsibilities as a guide very seriously.
Being a good climber does not necessarily make one a good guide, he says. I see already that Neil is very much interested in ensuring the quality of my experience on this adventure. He is committed to being flexible, wanting to make sure that what he's doing will mesh well with my own personal climbing style.
Neil is also an avid backcountry skier who wants to ski many of the same technical winter routes that I've been eyeing. We talk for a while about the inherent contradictions of our sport—especially that always dicey matter of risk versus reward. We both talk enthusiastically about our families, and our passion for fatherhood.
We fearlessly talk politics and the price of oil before returning to the subject at hand: California mountaineering. Neil is obvious in his love for the Sierra and hiking and climbing. Technically he's at work, of course, but even so he can't help but stop now and then to admire a nearby arete, or an alpine meadow, or just the bright blue sky overhead. Onward we go.