North Palisade via the U-Notch — Page 4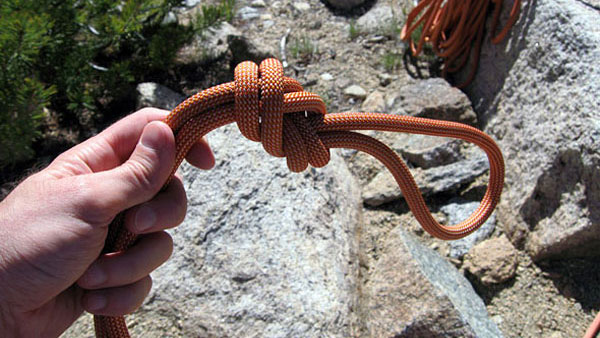 IV. Rope 101
After a bit of wandering, we find a suitable camping spot overlooking the lake. I pay close attention as Neil unloads his backpack, wanting to see how he has stuffed his gear so neatly into a 45-liter space.
One tip: Neil has wrapped his therm-a-rest around his sleeping bag and heavily compressed both, making for a tidy package. His strategy otherwise seems to consist in just generally squashing the heck out of everything. With our tent set up and water bottles filled, it's time for a crash-course (hopefully not literally) in the essentials of technical climbing and mountaineering.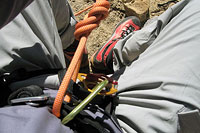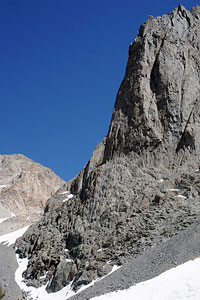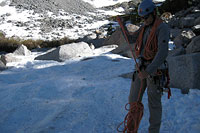 Our inaugural lesson takes place, appropriately enough, at the foot of Temple Craig's magnificent North Buttress, said to be the longest stretch of technical climbing in the High Sierra (the 'Dark Star' route).
Thanks to my own travels in the Sierra, I am no stranger to crampons and axe, but my experience ends where roped climbing begins. We are therefore embarking into a new and unfamiliar world for me—and I feel more than a little anxious about it.
We start by reviewing and putting on our harnesses.
Neil not only corrects my harness (which I've buckled the wrong way), but also teaches me a clever mnemonic which enables me to know at a glance whether my harness or his or anyone else's is correctly secured.
This seems like a good start.
On we go to the rope and a few essential knots. Neil's goal here (he later reveals) is not to cram my head full of things I'll later forget, but rather to teach me just enough to get the job done.
In this he succeeds admirably: I learn how to tie the rope to my harness, how to belay a lead climber (Neil), and a few essentials of climbing communication.
Streamlining the education process today are renegade bands of mosquitoes, who ensure that no lesson drags on longer than necessary. Soon, the sun is dropping behind the sierra's crest, and in the lengthening shadows, we decide to retreat to our tent for dinner. It strikes me, on later reflection, that most of the essentials of rock climbing are really quite simple. There are basic techniques which are employed (with modifications) over and over again.
Despite that simplicity, however, the consequences of even a minor mistake or oversight (such as my improperly-buckled harness) can be catastrophic. For that reason, it seems to me that a key aspect of technical climbing lies in developing procedures or protocols (like a pilot's checklist) designed to ensure that everything happens the same way, every time.
Then again, Neil cautions that becoming overly-focused on repeating the same procedure each time can go awry in the wrong context. His motto might be described as 'find the right solution at the right time'. After dinner we settle into our sleeping bags. Neil is soon asleep. I keep my eyes open, watching the light fade on Temple Craig, thinking of ropes and rocks and high places. Perhaps technical climbing is not so simple after all...