North Palisade via the U-Notch — Page 5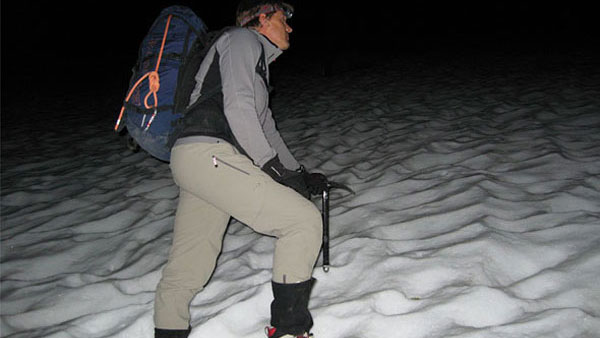 V. The Alpine Start
I am already awake when Neil's watch beeps at 3:30 a.m., signaling it's time for us to leave our sleeping bags. Ordinarily I am no fan of rising before the sun, but sleep has been fitful at best for me tonight.
I'm eager to switch from thinking about climbing to actually doing it. Neil boils some water for tea and a light breakfast. Twenty minutes later we've got our boots and packs on, and we're scrambling up broken granite by the light of our headlamps.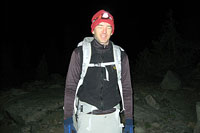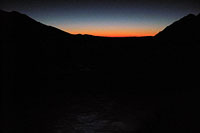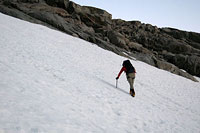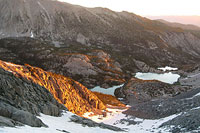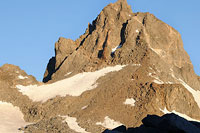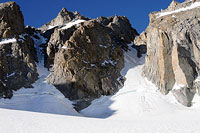 The rock soon gives way to snow. Axes in hand, we work our way up the gully. When the snow begins to steepen, we stop for a snack, and the crampons come out.
For me, climbing in soft boots and crampons (rather than ski boots) makes for much more tiring travel. I am not used to the pressure mountaineering boots put on my ankles and calves when paired with crampons.
Neil offers suggestions on how to angle my feet so as to minimize the workload. I concentrate on my footwork, trying to keep my leg muscles comfortable.
The eastern horizon begins to glow. Has so much time passed already? I sense that today will not be easy. I can't seem to find that magic rhythm of footsteps and breath.
Neil picks up the pace a bit as we pass beyond 12,000 feet, wanting to catch a view of the currently-hidden Sierra crest in the dawn's first light.
I follow, urged upward by the soon-to-be-revealed sight of the Palisade Glacier, the U-Notch Couloir, and our main objective, North Palisade itself.
At 5:56 a.m. we top the snowy gully we've been following since Third Lake, reaching Gayley Camp, elevation 12,400', and our first view of the North Palisades group. The sun glows electric-orange on the imposing granite facade of North Palisade's north face, around which crowd multiple summits above 14,000'.
Glacier travel in the Sierra is not quite the perilous undertaking one encounters in more northerly ranges (or even Mountain Shasta). Consequently we proceed unroped, though Neil notes crevasses can occasionally pop up here and there.
But first, our Glacier journey begins not on snow but rock, as we must traverse a nasty pile of talus to get to the glacier. Climbing up, over, and around these large, loose, shifting blocks is slow.
While we scrabble awkwardly across the rock in our crampons, I mentally apologize to Black Diamond as my steel points grind and protest against Sierra granite. Does this qualify, I wonder, as Mixed Climbing? With much relief, we leave the talus behind and tromp contently across the glacier's sun-cupped snow toward the U-Notch.
The sun is higher now, the day already quite warm. The sky above grows piercingly blue. Our conversation turns to skiing. In winter, I would merrily climb that beckoning couloir before us and slide down with slippery sticks attached to my feet. Today, in contrast, I will ascend and descend roped—with utmost caution.
Neil is a father of twins, and he speaks with the same limitless enthusiasm about his children as I do I about my son. This combined with Neil's dedication to not only climbing and guiding but also learning as much about the art of climbing and guiding as possible gives me strong reason to suspect he is both a conservative and passionate climber—an excellent combination in a guide.