North Palisade via the U-Notch — Page 6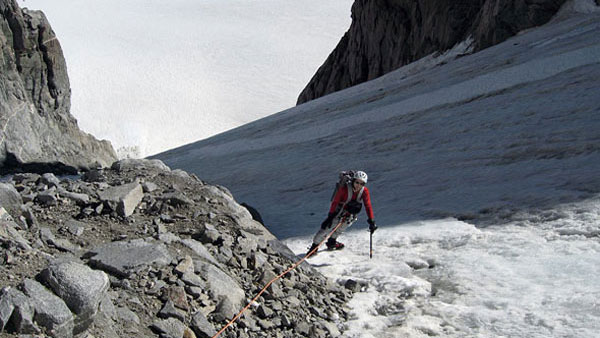 VI. Climbing the U-Notch
A few hundred vertical feet below the bergschrund at the base of the couloir, Neil and I stop to put on our climbing helmets and rope up. The 'shrund (a crevasse between a glacier and a couloir) can be a formidable obstacle.
Particularly later later in the season, bergschrunds tend to open, creating significant crossing difficulties. But today there is a convenient snow bridge across thanks to the remnants of avalanche debris. We carefully work across the snow bridge, and with that barrier crossed I feel a wave of elation: I've just passed into a whole new realm of Alpine climbing.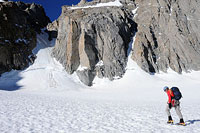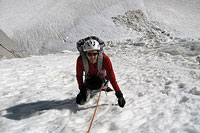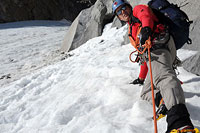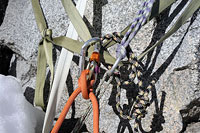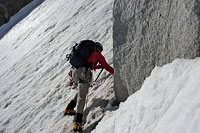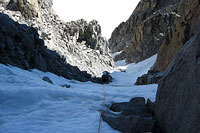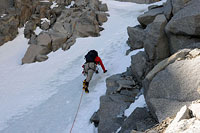 The lower part of the couloir is mostly soft snow, which we simul-climb, not stopping to secure the rope to the mountain. Soon, however, we reach a rocky buttress to the right of the couloir, where we find the first belay/rappel anchor station.
This, for the uninitiated, consists of loops of nylon webbing, age unknown, plus rappel rings (sometimes) and an occasional beater carabiner clipped and tied in various states of tangle.
Knowing how to identify good slings from bad is a fine skill to have if you're going to be trusting your life to other people's knots and hardware. I watch as Neil inspects the mess, and ask a few pointed questions of my own.
In addition to inspecting the knots, and ensuring that each has acceptably long tails of extra webbing, Neil looks to see how faded the webbing is (from sun exposure), and how worn (from rope burn, rock friction, etc).
Should the webbing strike Neil as wanting, he will replace the offending section or entire rappel sling with new webbing (something he considers part of a guide's responsibility).
He also checks to be sure that the anchoring horn of rock is not loose—seemingly a no-brainer, but one worth doing, as we'll discover later this very day.
With myself and my belay device clipped into the anchor, my job on the ascent is to feed Neil slack as he climbs upward on the Couloir's ice. In this way, if he falls, the force of the fall will be held by the anchor (not by me!), with only a minimum of slack in the system.
When Neil reaches the end of the rope, he is to shout down to me 'Off Belay', indicating that he has safely anchored himself above and no longer needs me to secure him.
At that point, I am to climb upward (shouting 'Climbing' or 'Be Dazzled by my Greatness' or some other such warning), and Neil will belay me from above in a similar manner.
Time passes. The sun grows hot on my forehead. At last, with a shout to Neil, I'm off and climbing, following behind, watching as the rope magically takes up slack above. Much of this—climbing a snowy couloir—is familiar to me, and so I feel reasonably comfortable despite the angle and exposure.
But much of what we're doing is also brand new to me, including climbing true ice and climbing on a rope. Where we encounter ice, I slow down, less sure how best to proceed. As we continue our way up the couloir, stopping here and there to clip in to a rappel station or ice screw, Neil encourages me to experiment with my technique.
Unlike solo travel, Neil points out, I have the luxury on the rope of being able to make mistakes. I do my best to take this advice to heart, trying different ways to hold my axe, different ways to position my feet. In the middle-ground soft-firmness of Alpine Boots, I find it easy to climb low angle snow and ice, but distinctly uncomfortable to climb steeper ice.
No amount of experimentation on my part relieves this equation. Occasionally, I must stand and wait on angled ice as Neil climbs, or sets a belay, or takes up slack, and these moments prove quite merciless on my leg muscles and ankles. Looking ahead to the Notch, I feel a twinge of anxiety as I contemplate what shape my calf muscles will be in for the harder climbing on rock above.