North Palisade via the U-Notch — Page 8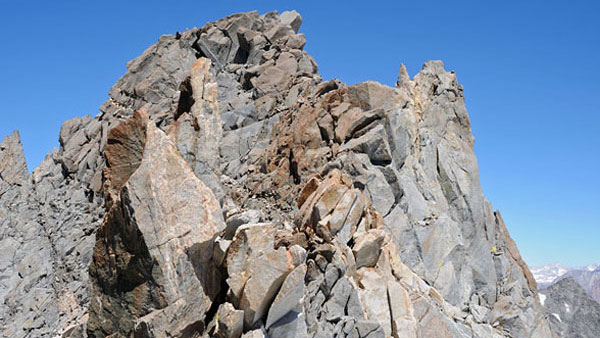 VIII. The Summit Ridge
From the top of the second pitch of roped climbing, the route to North Palisade's summit is far from straightforward. More difficult climbing and route-finding remains.
Neil and I must now traverse a lengthy section of sharp ridgeline, as well as descend a bit to the southwest, into a gully system, from which we will work our way across and back up to the summit. As before, Neil leads, now belaying me not by setting protection pieces but more simply (and more conveniently) by looping coils of the rope around nearby rock horns.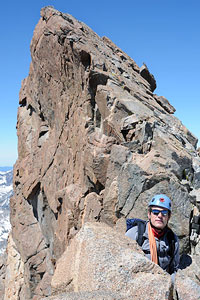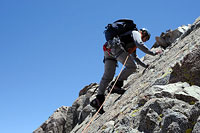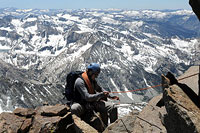 Despite the obvious exposure here, my comfort level is good. We are once again on familiar ground for me—Class 3-4 scrambling.
Though Neil recognizes the sharp rock of North Palisade's Southeast Ridge as the dangerous ground it is, to me it is not unlike other places I have soloed.
The rope thus no longer seems necessary to me (though I don't for a moment consider suggesting we climb without it), and I scramble about happily imbued with feelings of familiarity and control.
Occasionally, the climbing or the exposure gets sticky enough to warrant the rope, but this only seems to enhance my sense of security.
Each time I come to suspect we are nearing North Palisade's summit, the ridge reveals another section yet to be traversed.
Being so close to our destination, yet seemingly unable to bridge this final section, begins to wear at my patience. Eventually, we leave the ridge, heading westward into an amphitheater-like space atop the west face.
Here, the ground is loose but easy, removed from the ever-present verticality of the ridgeline.
We have now joined the upper portion of the Class 4 route up the west face (which includes climbing in the west-facing gully that joins the U-Notch). While it is considered the easiest way to the summit, the Class 4 West Face route enjoys a wide range of reputations, from being underrated to overrated to being simply impossible to find.
I would guess, should you know where you're going, that the West Face route under optimal conditions might lie within the outer margins of the ambitious scrambler's milieu. Get off route without technical climbing skills and gear, however, and I would certainly not want to part of the subsequent ordeal.
Should you get this far, be prepared for one last challenge. The headwall guarding North Palisade's summit blocks requires a bit of route finding once again, as well as a reintroduction to North Palisade's otherwise ubiquitous exposure (we in fact will rappel the headwall upon our exit rather than try to downclimb it). Neil leads the way, then belays me with the rope. I climb this section carefully, and all at once the summit reveals itself, surrounded on all sides by terrifying drops.