North Palisade via the U-Notch — Page 9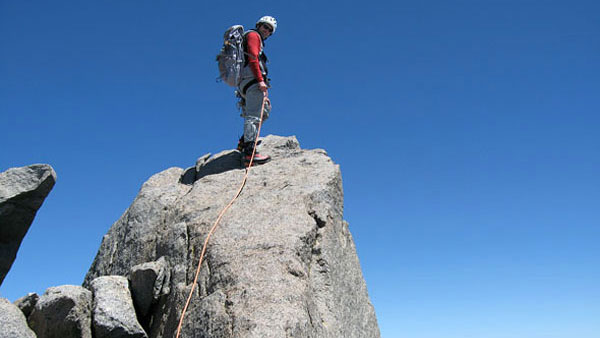 IX. Atop North Palisade
Some summits by their nature seem designed to discourage loitering, and so the apex of North Palisade seems to me as I take those final steps up its steep granite ramp.
To the east is a stunning expanse of air. Below that—far below—is the Palisade Glacier, Second Lake, First Lake. My expose-o-meter is fairly well on the fritz by now. I'm looking forward to finding a big, flat expanse of solid ground at the end of the day to cling to and perhaps cry 'Mama!' a few times or more. Neil takes a few photos of me atop North Palisade's summit block.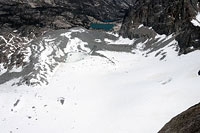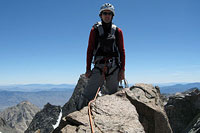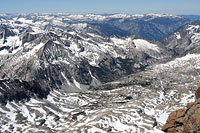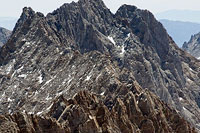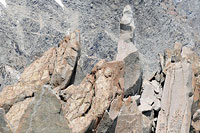 Posterity accomplished, I make no haste and meekly slink down to a nook in the rock near the USGS marker, where the call of the void is not so overpowering.
Off comes my backpack, and out comes my food and water for summit-top lunch. The time is 11:42 a.m., almost exactly eight hours since we left our camp at Third Lake.
I thank Neil for getting us, as I put it, 'Halfway there.'
But Neil will have none of this way of thinking. In his opinion, we have worked hard to get to this apex of rock, and deserve to offer ourselves a bit more congratulations than that.
Besides, he argues, we're more than halfway there in any reasonable approximation.
80% there, I ask?
Maybe a bit less than that. After a moment of discussion, we agree on an appropriate number, and congratulate each other heartily for having achieved 65% of our goal.
Meanwhile, I've recovered enough of my senses to begin to take a guarded look around. Being located in the center of the High Sierra, North Palisade's summit commands a truly remarkable view of the range.
Speaking of North Palisade's summit panorama, Sierra legend Norman Clyde wrote, "Probably the view...equals in scope and magnificence that obtained from any peak in the range and without being unusually hazardous or difficult, it is sufficiently so to render it interesting to the most skilled mountaineer."
I am particularly taken with the view of Le Conte Canyon and the Middle Fork of the Kings River, which lies due west. And then there are the fourteeners... The striking fin of Middle Palisade, 14,040' is south, just past the horn-like bulk of Mount Sill, 14,162'. Beyond that are Split Mountain, Mount Williamson, Mount Whitney, and Mount Muir.
Looking North, we see Starlight Peak almost close enough to touch, then Thunderbolt Peak, and of course White Mountain. All of these and much, much more are readily viewable from our lofty perch atop North Palisade.
The view is magnificent, but my attention is drawn elsewhere. I am thinking about what waits below: a long series of rappels to get back to the U-Notch, then another sequence of rappels to get down the couloir itself. This part of our endeavor—going down—worries me more than all other aspects combined. Rather than let my mind ponder and stew, I suggest to Neil that we get moving again. "Watch over me," I say. Neil readies the rope, and we move once again to the edge of the precipice.