Whitney's East Face — Page 10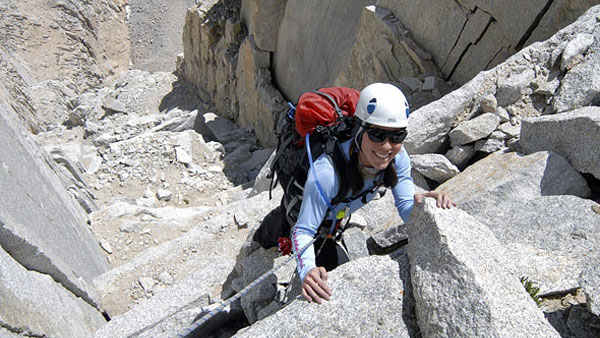 X. The Grand Staircase
Elation wears off a bit above the Fresh Air Traverse, where the next pitch proves (for me, at least) to be the most challenging and nerve-wracking of the entire climb.
I am learning a lot about myself as a rock climber on this adventure. First of all, if it's not obvious, I'm no expert. But I do notice I have a bit of a knack for certain sorts of problems—my mind and body seem to click on these moves, especially where good handholds and inventive shifts in balance are involved.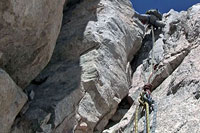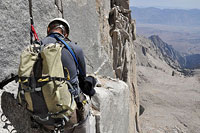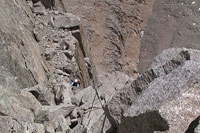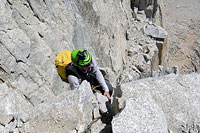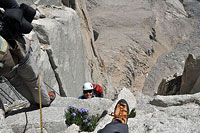 I am also experimenting with my climbing shoes, trying to discover just how small a hold or nub of rock I can step on and still find enough friction to call it solid.
But, especially where handholds are poor, my technique stiffens, and I rely on brute strength and awkward movements.
This next pitch seems to contain a lot of that.
We're trying to connect to the more moderate grounds of the Grand Staircase, a giant ramp leading directly up the mountain.
But first we have to get there.
At one point, Eileen and I diverge following opposite sides of a gap up the mountain. Things get sticky for both of us at the same time.
We look across at each other helplessly, both wishing we could swap places, but there is no easy way out here, just hard, nail-biting climbing.
It is therefore a big relief when we top out the pitch and arrive at the Staircase.
Once you learn to look for it, the Grand (or Great; also Giant) Staircase is one of the east face's most distinctive features, easily visible from below.
Here, we find granite ledges neatly arranged in what does indeed resemble a giant staircase.
Importantly from my point of view, that gnawing sense of exposure mitigates here, allowing me the ability to relax a bit and enjoy the views.
Our arrival at the Grand Staircase heralds an important milestone: we're now well past the midway point on our climb, and aside from a tricky move here or there, we're also past what I consider the hardest climbing.
As much as I've enjoyed the constant buzz of exposure and rock over the past few hours, I am feeling ready to top this one out and stand on some solid ground. The Staircase obliges. We make good progress here, climbing smoothly and efficiently. And we are certainly getting higher up the mountain as well, opening up new vistas. To the south, we can now see Olancha Peak, Mount Langley, and Mount McAdie on the horizon, as well as the much closer spires of the Needles and Crooks Peak.
Each pitch of this sprawling route continues to offer new challenges and new vistas, and the Grand Staircase proves to be one of my favorite sections of the climb. And there is one last surprise for us: a tricky little traverse around a rocky edge with plenty of exposure to keep things spicy. But around the corner we go, old pros now, and only a short stretch of scrambling separates us from Whitney's 14,500-foot summit.