Whitney's East Face — Page 11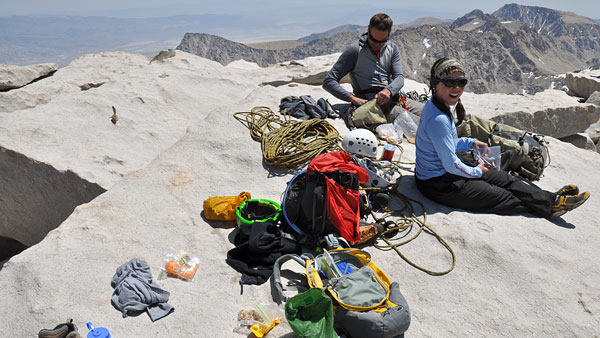 XI. Summit Blocks
For the final 'pitch', we remain roped together but no longer stop to set fixed belays. Instead, we climb simultaneously, using the rope for extra security only where needed.
The upper segment of climb features mostly Class 3 work over large blocks of broken granite, with the occasional sticky spot or exposure shot that makes staying on the rope a good idea. At such locations, Kurt goes first, and then wraps the rope around a rock flake to improvise a belay when we follow.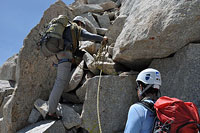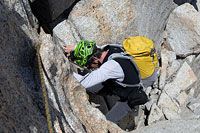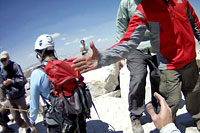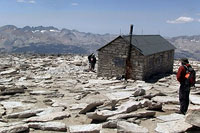 Looking north, I realize we've joined the top of the East Buttress route.
We've got a bird's eye view of Mount Whitney's East Couloir, and Mount Russell beyond.
I'm focusing on my feet and views downward when I hear what sounds like some sort of a commotion coming from up above—excited voices.
I look up to see a gaggle of surprised faces looking down at us.
It's the summit—we've made it!
Mount Whitney is ours. We climb up the last bit of the east face right into their midst, where we receive a warm welcome and congratulations.
And then it hits me: we're the climbers this time.
As I look as these smiling strangers, and shake their hands, I think maybe someday one of them will try the route, inspired by the sight of us popping up from out of that great void below.
Ah...the circle is complete. It feels really, really cool. Kurt, Eileen, and I share a group hug atop Mount Whitney's summit.
Then we begin peeling off our climbing hardware, making the transition back to hiker-scramblers for our pending descent down the Mountaineer's Route. It's time to say goodbye to the harness and the rope. All our gear strewn across Whitney's summit blocks makes it look like we've just come from some sort of mini expedition, which, I suppose, we have.
I find a comfortable rock to recline against. We linger on the summit, enjoying the moment. Then one of us mentions burgers at the Portal Store, and we're checking the clock, wondering if we've got enough time to make it all the way down before the kitchen closes. The verdict: maybe. But the prospect of a tasty meal is more than enough to get us moving again, heading back down the mountain.