Whitney's East Face — Page 12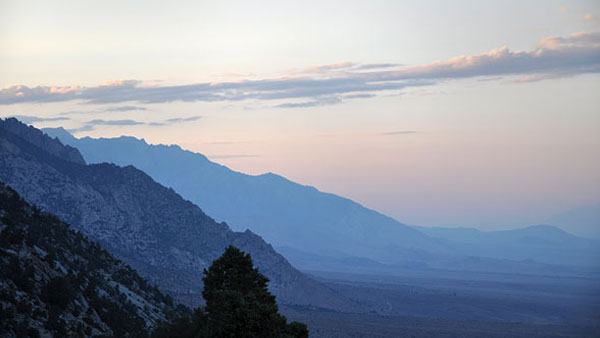 XII. Mojave
When I close my eyes I see granite... I am lying in bed in a motel room in Mojave, California, trying to get some sleep, but the images of the past 24 hours are burned into my mind.
The sense of vertigo grows so intense I must open my eyes, stare into the darkness, listen to the a/c tick until it fades. A train rumbles past in the distance. In this calm, quiet, and very, very flat place, only these images of rock and space flashing in my mind are present to remind me of today's extraordinary adventure.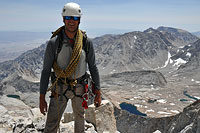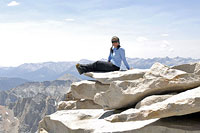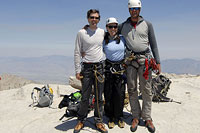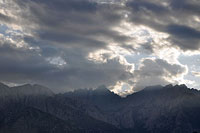 Working with Kurt Wedberg and the Sierra Mountaineering International team, I must say, was a great pleasure.
Safety is a primary issue for me. On this trip, I not only got to climb Mount Whitney's incredible east face, I did so with full confidence that I was in expert hands.
Much thanks are also in order to Eileen, who proved to be a perfect partner to share this adventure with.
It was easy, climbing with Kurt, to forget he was our guide. As a guide he has an easy, natural style that made for an enjoyable group dynamic.
While he was always on the job, watching out for us, Kurt's influence was seamless and subtle, adding just enough help to keep us all safe and sound when we needed it, and giving us the space to do things at our pace whenever possible.
One of the things I find unique about Kurt is his involvement in the online climbing community.
He is an active participant at the Whitney Portal Store message boards, as well as on Summit Post, where he offers advice, information on current conditions, and often just good old fashioned encouragement.
As for his company, and the other guides who work for him, Kurt notes, "People want to feel like they're a part of the process." He makes a point to tell his guides to approach each trip, "Like you want to make a friend." I felt that right away...and I did.
Let me also call attention to Kurt's excellent photography, without which this article would not have been the same. Kurt's photos appear as the lead on the first page (those are his feet, not mine!), and also the lead on the Tower Traverse and Grand Staircase pages. Additionally, if you see a shot of me anywhere here, Kurt likely took those as well, all with his trusty Nikon D200.
I hope in writing this account I haven't left out the fact that I was often scared out of my wits, and tired, and sore, and more than once swearing I'd never try anything crazy like this again. It wasn't easy, and it absolutely pushed me outside of my comfort zone. But you know what? I did it, and in the end I had a heck of a lot of fun. It's good to push your limits now and then—especially when you've got someone else looking out for you.
SierraDescents extends a hearty Thank You to Kurt Wedberg and Sierra Mountaineering International for making this a safe and successful climb! Sierra Mountaineering International is one of the oldest guiding companies in Bishop, and offers a comprehensive range of climbs and courses in the Sierra, as well as trips all over the world. To get started on you own SMI adventure, contact Kurt via his website, or give him a call at (760) 872-4929 and tell him I said hello.