Whitney's East Face — Page 2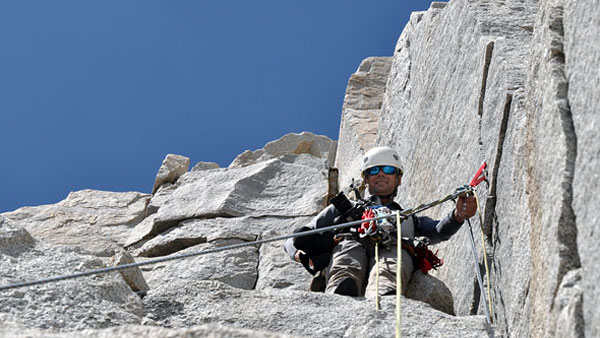 II. Sierra Mountaineering International
Much of my time in the backcountry I've spent alone, but I've also come to develop a willingness to seek out a little help now and then when I need it.
This has proven an especially valuable lesson, often meaning the difference between merely thinking about doing something and actually going out and doing it. And so I find myself driving north to Lone Pine to meet with guide Kurt Wedberg of Sierra Mountaineering International.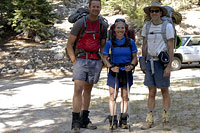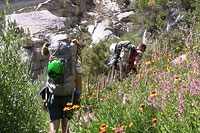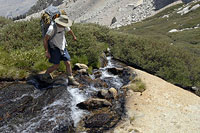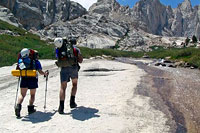 It's time, I've decided, to give the East Face a try.
I first met Kurt while backcountry skiing on Mount Baldy. He was leading a group of climbers on a winter climb on the southeast bowl.
Kurt has the kind of personality where he seems to make friends wherever he goes.
As our two groups recharged outside the San Antonio Ski Hut, he and I got to talking and introduced ourselves.
Founder of his Bishop-based guiding company, Sierra Mountaineering International, Kurt has been guiding professionally since 1986.
Though the Sierra is home base, as his company's name implies, Kurt and his guides climb throughout the world, with an enviable list of major expeditions on their resume.
Kurt also has ties to Southern California, having once lived in West L.A.—my present stomping grounds—and he makes regular forays back down to Southern California to give climbing clinics and expedition presentations—as well as to reconnect with clients and friends.
Our chance meeting in the San Gabriel Mountains made a lasting impression. I knew I was going to want to try Whitney's east face with a guide someday, and Kurt seemed like a natural choice. Now, Kurt and I shake hands outside the Mt. Whitney Cafe in Lone Pine and head in for a pre-trip breakfast. We're joined by the very enthusiastic Eileen, who'll be our third on this adventure.
Eileen has a considerable strike against her in that she's Canadian, but this is largely redeemed by her strong traditional mountaineering skills combined with her relative lack of roped climbing experience, which, like my own, hopefully means she'll be panicking as least as much as I will.
In addition to boosting morale by amusing Kurt and I with her Vancouver accent, Eileen's other primary role will be to help Kurt and I photograph the route. As a group we are taking a formidable array of still and video cameras to document the climb as fully as possible. And so we are ready—or at least, so I hope.