Whitney's East Face — Page 3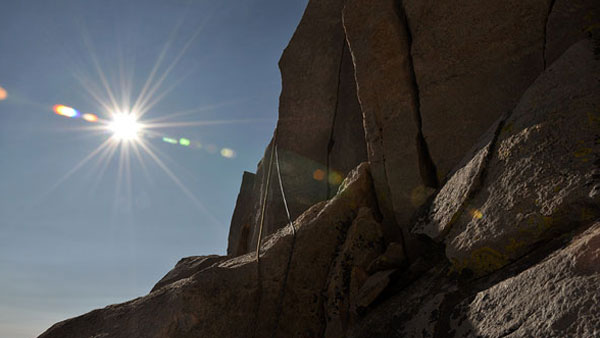 III. First Ascent
The sheer east face of Mount Whitney was considered unclimbable until 1931, when Norman Clyde, Glen Dawson, Jules Eichorn, and Robert Underhill attempted it.
Their group brought together a unique mixture of talents. Clyde was a master at finding viable routes on previously unclimbed faces—especially on big peaks. Youngsters Dawson and Eichorn had the unshakable energy and optimism of youth as well as impressive pure rock climbing ability.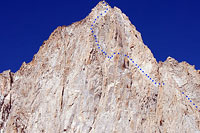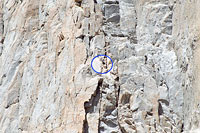 And Underhill, on leave from the Grand Tetons and Canadian Rockies, brought what was then the cutting-edge technique of roped belaying.
The fusion of their respective abilities proved serendipitous.
The four successfully climbed Whitney's East Face, establishing a landmark achievement in the annals of Sierra mountaineering that opened up the range's big peaks to the possibility of technical rock climbing.
While the men had been prepared to be turned back by formidable climbing, in truth the route proved much easier than expected.
As Underhill later wrote, "The beauty of the climb in general lies chiefly in its unexpected possibility, up the apparent precipice, and in the intimate contact it affords with the features that lend Whitney its real impressiveness."
Whitney's east face looked sheer from Lone Pine—yes—but in fact once the climbing began, quite a bit of previously-hidden texture appeared, offering a logical and even moderate way up and across the face. To be sure, there were considerable challenges along the way, including the initial 'Tower Traverse', and then, higher up, the wonderfully evocative 'Fresh Air Traverse.'
But on the whole, Whitney's east face revealed itself to be not just possible but actually enjoyable: a masterpiece of moderate (by today's standards) rock climbing, excellent rock quality, stunning views, and otherworldly exposure that at first glance seems to offer not even the slightest possibility of passage.