Whitney's East Face — Page 4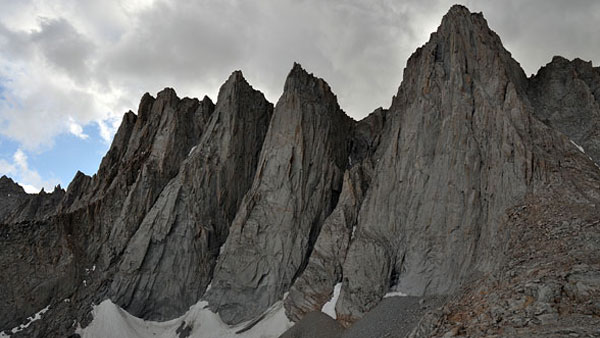 IV. Apprehensions
Dark clouds gather about Mount Whitney's 14,500' summit as we reach Iceberg lake. We'll camp here for the night, within striking distance of tomorrow's climbing route.
From Whitney Portal, Kurt, Eileen, and I have enjoyed a leisurely hike up the North Fork approach, following the same trail past Lower and Upper Boy Scout Lakes and then through Whitney's glacial moraines that climbers use to reach the start of the Mountaineer's Route.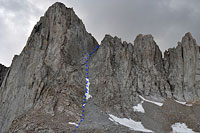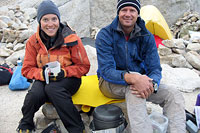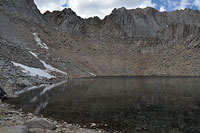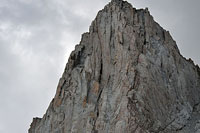 It's still relatively early—not yet four o'clock.
The weather for August seems cool today—though, as its name suggests, Iceberg Lake's 12,600' elevation ensures chilly temperatures year round.
We quickly set up camp. As the heat of the hike up wears off, I don long underwear, a dry shirt, then a fleece jacket and hard shell, eyeing the sky for rain potential.
Rather than just sit around and shiver, I grab my water bottle and my camera and then wander about the lake to take in the view.
Our early arrival has ensured plenty of time to contemplate Whitney's imposing east face.
I admit it: I am a bit of a worrier.
The outcome of any venture in the mountains is always uncertain. Weather often has the final say on a climb's success, but there are many other ways for things to go wrong as well.
I always worry I've forgotten something critical when I'm packing. And, just getting to the mountains from Southern California can be an ordeal in itself. And a last minute cold or stomach bug can end a hike before it begins.
On the subject of illness, no discussion of mountain challenges would be complete without mentioning Whitney's considerable potential for altitude-related ailments. This, is fact, is my number-one concern. Camping at Iceberg Lake puts us in excellent proximity to our climbing route tomorrow, but it also places a lot of strain on my sea level-acclimatized body.
If something is going to go wrong, it will likely happen tonight, as my metabolism and respiration rate naturally cycle down for sleep. Make it through the night in good shape, and I reckon I'll be solid for tomorrow's climbing. But that's still a long stretch of time between now and dawn. I do my best to take deep, regular breaths, and cross my fingers.
And then, of course, there is the elephant in the room: Whitney's east face itself. Taking on this endeavor is a big leap for me in terms of technical rock climbing. I can't help but stare transfixed at that massive wall of rock, trying to imagine my tiny body up there somewhere, clinging to God Knows What. Yes—I like to push myself. But as the sky begins to darken and the long night settles in, I'm wondering if maybe I've pushed a little bit too far this time.