Whitney's East Face — Page 5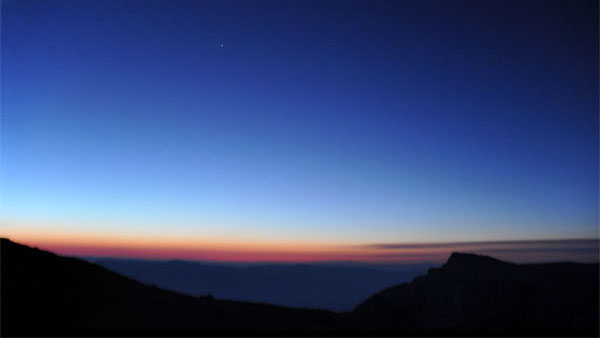 V. The Climb Begins
Kurt's alarm goes off at 4:30 a.m. He fires up his stove, and soon, he's brewing tea and oatmeal, the sounds of which help coax me from my toasty sleeping bag.
The weather is clear and cold, windless. The moon, just past full, casts its light across the rocky talus and dark brooding spires around us. As for me, I've weathered the night in good form. I feel strong, alert, ready to find some rock and start climbing.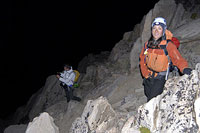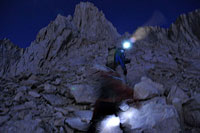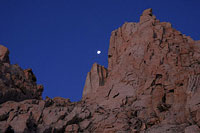 One of the things I love about Summit Day is the sense that your destiny at last lies within your own control. Of course, this may ultimately be an illusion.
Still, the preliminaries of the trip are done, the logistical and scheduling challenges have been met. Now there is only the business of climbing to attend to, and if we are ready for it, there is only the mountain to contend with—and ourselves.
After a bit of last minute packing and repacking, we're all saddled up and ready to go.
The blue-white beams of our headlamps dart and bob on the rocks as we leave Iceberg Lake behind.
We begin by following the lower portion of the Mountaineer's Route, up the East Couloir, but soon Kurt veers southward, leading us toward Whitney's East Buttress.
Behind us, the eastern sky begins its daily magic show. Lone Pine Peak's silhouette rises above Owens Valley like a sentinel. Dawn is coming. I stop now and then, trying try to catch a sliver of this blossoming grandeur with my camera. Meanwhile to the west the moon is about to slip behind Whitney's towering mass, and the rock is just starting to show a hint of pink.
The climbing here in the lower going is just plain fun: scrambling over big blocks of Sierra granite, the angle steadily getting steeper. We're unroped here, but that will soon be changing. We're just about to reach the notch between the two towers that mark the start of the climbing route, about 800 vertical feet above Iceberg Lake (not to be confused with the notch atop the East Couloir).
This is it: the moment of truth. Kurt has timed our arrival perfectly. As we scramble up toward the notch the sun is just about to debut over Owens Valley and the eastern horizon. Only a few final steps remain, and then the real climbing begins.