Whitney's East Face — Page 7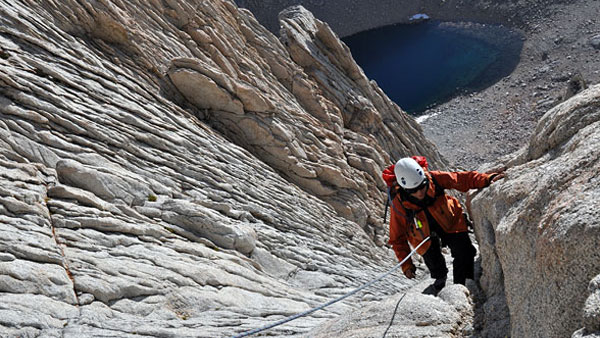 VII. The Washboard
A bit of steep but otherwise moderate chimney climbing gets us to our waiting leader, Kurt, and The Washboard, a prominent ramp-like feature leading up Whitney's east face.
When Eileen and I reach Kurt at the belay station, we get a mild scolding: our pace up pitch one (in rock climbing, a 'pitch' equals one rope length, typically sixty meters) has been a little too pokey for comfort, given that ten more pitches of climbing remain.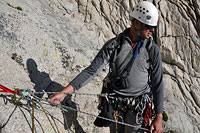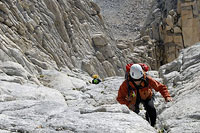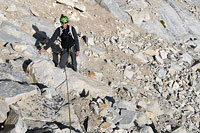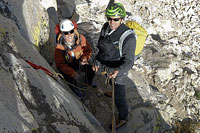 Kurt doesn't want us to climb faster, but he does want us to work on our belay transitions, which he says tend to chew up a lot of time if you're not careful.
He gives us a few efficiency-boosting tips, and then he's off again, starting up the Washboard while we wait for him to secure the route.
As Kurt climbs, Eileen and I man the belay, feeding him slack while also comparing notes on our respective Pitch One experiences. Consensus: there were some tricky bits back there that took both of us by surprise.
Still, the sun is shining, the view is breathtaking, and our excitement at just being here on this extraordinary route is more than enough to keep our spirits high.
The Washboard does offer a bit of a mental respite from the Tower Traverse's initial exposure shock.
Here, the biggest challenge is keeping pebbles out of your climbing shoes while spectacular vistas unfold around you.
Our group makes quick work of this section, moving easily up the Washboard's uneven ground. In fact, the terrain is moderate enough to make us forget where we are.
Given the east face's apparent sheerness as seen from Lone Pine, it's hard to imagine how much texture the face actually has. This, as Robert Underhill noted, does indeed add to the richness of the route. What looks from below like impassible granite proves up close to offer many possibilities—some of which, like our present position, offer quite modest climbing.
But don't get too comfortable. The Washboard soon ends in a striking wall of rock called the Alcove, where further progress upward is not possible (at least, not for climbers of our ability level). This same section gave the first ascent team pause as well. To get past it, we'll traverse yet again across Whitney's great eastern face, and this time where exposure is concerned, we'll be getting the full dosage.