Whitney's East Face — Page 8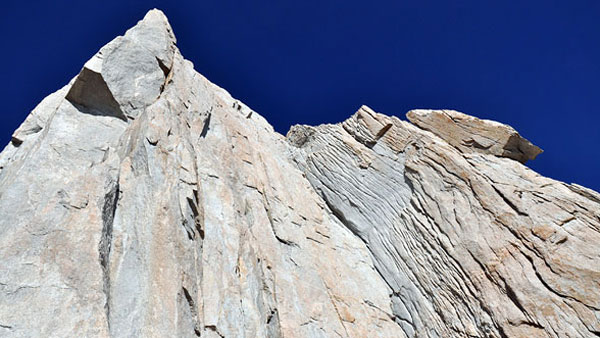 VIII. The Alcove
Primal fear has been occupying much of my attention, but have I mentioned the patterns in the rock? Each section of our climb thus far has its own patterns and textures, like paintbrush strokes on a master's canvas.
These differing shapes make for unique climbing in each segment, as if we are on not one but many different Alpine routes. The Alcove is certainly one such remarkable feature: a high altitude amphitheater that exists for your concert-going pleasure at just under fourteen thousand feet in elevation.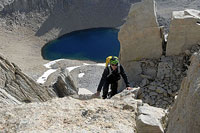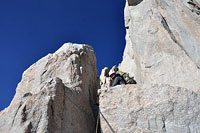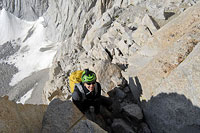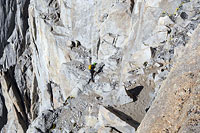 To escape the Washboard and the dead-end Alcove above, we climb now toward another notch between the east face and a small tower. From there, we'll down-climb a short section and take a break on the opposite side overlooking the start of the Fresh Air Traverse.
I get to go first on the down-climb, which affords me the right (I believe) to claim I got to lead one bit of the climb—even if it was butt-first.
On the other side of this small notch is yet another east face surprise: a broad, sandy ledge that under other circumstances would make a fine place for camping. Eileen is next on the down-climb section, and then Kurt, and soon we're taking our mid-morning break.
This classic hanging ledge offers stunning eastward views of Mount Whitney's north fork drainage and Owens Valley beyond.
But in truth my thoughts keep turning rightward, to the rock work that lies next on our agenda.
The evocatively-named Fresh Air Traverse is one of those mountaineering classics steeped in both history and impact. For me personally, it also represents a (hopefully figurative!) leap into the unknown. I don't really know how I'll react to it.
Norman Clyde's description (in Close Ups of the High Sierra) is not particularly reassuring: "The Traverse proved to be one requiring considerable steadiness, as these ledges were narrow and there was a thousand feet of nothing below them. As we came around the projection we were confronted by a gap in a ledge with a narrow platform about eight feet below. There was the alternative of stepping across it—as far as a man of medium high could possibly reach, availing himself of rather poor hand-holds—or dropping down to the platform and climbing the other side of the gap."
That sentence has lingered in my memory ever since I first read it. I've imagined myself confronting that same gap, wondering what I'll find. Will I be able to get across? What will the sight of so much airy nothing below my feet do to my mind? Saner adventurers might well do a better job preparing themselves for a moment like this—say, by taking climbing classes, apprenticing on easier but still technical routes—but here we are, and there is nowhere for us to go now but onward, toward whatever awaits us.