February 24, 2010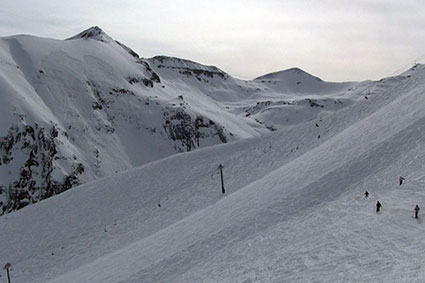 Telluride sits in the northern San Juan Mountains—a part of the Rockies notorious for its unstable snowpack. A big, ugly beast of a natural avalanche put an exclamation mark on that this week. Here's a photo of the slide as seen from Telluride's Revelation Bowl.
The slide was on a westerly aspect above Bear Creek Canyon, which is basically the exit point for all the lift-accessed backcountry skiing at Telluride. As far as I could tell this was a natural slide that did not involve any skiers. You can't see it in this photo, but there is a roughly 4' high crown at the start, stepping down to up to 10' crowns below the cliff bands. A sobering reminder of what a truly reactive snowpack looks like—and what it can do.

ANDY LEWICKY is a Los Angeles-based writer and photographer who enjoys good books, jasmine tea, long walks in the rain, and climbing and skiing the big peaks of the California Sierra. email | follow
2 Responses to "The San Juan Snowpack"
Bill says:


February 24th, 2010 at 7:33 pm

Wow. I just got back from Telluride on Monday. The last day I skied was Saturday and they were really getting dumped on when I left.

Dan Conger says:


February 25th, 2010 at 8:29 am

Would love to ski there someday. We should all be aware of the dangers these gorgeous mountains present. Knowing something about how snow accumulates on a given mountain during a storm will save your life. It's good to bear in mind that just because ski patrol has performed avalanche controls doesn't mean that the slope is entirely safe. Glad you had such fun out there!
Leave a Comment: