A Four Hour (Cold) Shower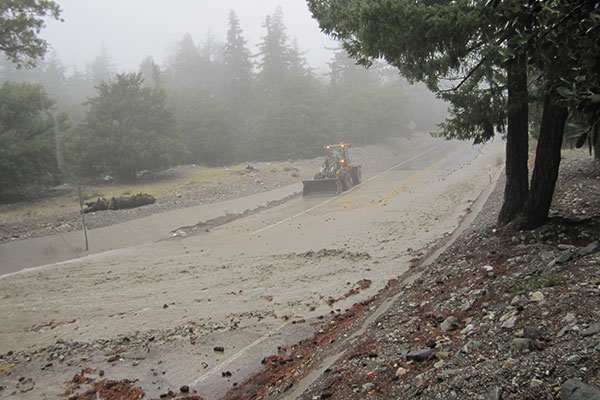 There are only so many days in a row I can watch heavy rain pound the pavement outside my apartment. But that stubborn snow level refused to come down. Finally, on Sunday, I decided to take the initiative and go find some snow. I drove up to the parking lot at Manker Flat (or, at least, I tried to), parked my car, and started hiking up the Ski Hut Trail.
My hope was to hike to the ridge above the Ski Hut, set up my loaner Brooks Rocket Tent, and then get the heck outta there. I didn't even make it to the hut.
I would describe the experience as much akin to hiking for four hours in your shower, water running cold, while simultaneously standing in a rushing creek. The hike utterly exposed the weaknesses in my rain gear, which failed miserably. I got soaked from mid-chest down, arms, hands, and feet included. Pools of water collected in my gloves and boots.
As I neared the hut, I could tell that the rain was about to change to snow—but it was still rain. Heavy rain. With wind gusts topping 60mph or higher, and my entire body dripping wet, I realized I was flirting with a whole lot of trouble. I spun around and walked back down. Glad I turned around when I did. I was freezing by the time I reached the car, and Mount Baldy Road was partially blocked by a flash flood just below Manker Flat.
Andy Lewicky is the author and creator of SierraDescents