Baldy Bowl Avalanche & Level I SoCal Class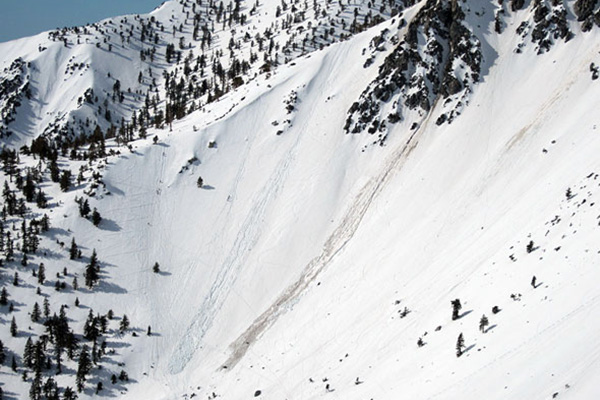 One of the interesting things about Baldy Bowl (via the Ski Hut Trail) is that it's a high use area that isn't particularly safe. On any given weekend you'll find a steady stream of hikers and/or climbers going up the bowl, regardless of current conditions. Perhaps that's an indicator that climbing in general isn't nearly as dangerous as some of us think it is.
Or maybe it's evidence that we're all a lot luckier (mostly) than we realize. In any case, here's great evidence that Baldy Bowl is not in fact a child-safe playground. I took this photo around 11:38 Sunday morning, from just off Mount Harwood's summit. Little did I know, that left slide had actually occurred only minutes earlier, nearly catching a pair of climbers heading up the bowl.
When I saw the slides, I thought, well, those look pretty big. And then I kind of forgot about it. In truth, I expect to see a lot of motion in Baldy Bowl whenever it gets sunny and warm. The San Gabriels are in SoCal, after all, and snow exists here in a perpetual and one-sided battle with the sun. You can't see it in the photo, but the right slide includes some pretty impressive rocks. Rockfall is endemic to Baldy Bowl whenever the sun is shining. And, in addition to large wet slides, cold slab avalanches can and do occur in the bowl following storms, typically off the ridge line, a NE aspect that wind loads.
This would probably be a good time to mention that, coincidentally, I learned today that Jeff Pierce is teaching a Level I Avalanche Course in Southern California. I'd say that would be an excellent place to start if you want to learn more about the SoCal snowpack, as well as traveling safely in the San Gabriels.
Things aren't freezing out there right now at night. Be Careful!
Andy Lewicky is the author and creator of SierraDescents