March 20, 2011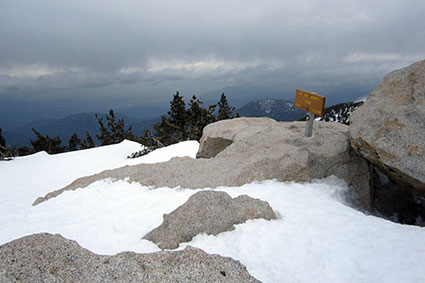 With apocalyptic rain blasting the L.A. Basin, Mt. Baldy sounded like a disaster in the making, and the drive up to the San Bernardino Mts. sounded like even less fun, so why not buzz up the Palm Springs Tram and hope for some fresh snow? Snow forecasts for the San Jacintos weren't in the ridiculous 50+ inch range, as they've been for the San Gabriels, but still, even half that amount would be ripping. What did we get instead? Nothing. Not even an inch of fresh snow. Just a heck of a lot of wind and some ice here and there. I think it dusted snow on us for about five minutes total all day. That's SoCal skiing for you—and it didn't help that I knew 50 miles away it was nuking (literally?).
Strange, strange day.

ANDY LEWICKY is a Los Angeles-based writer and photographer who enjoys good books, jasmine tea, long walks in the rain, and climbing and skiing the big peaks of the California Sierra. email | follow
One Response to "Nothing???"
Scott says:


Judging from the doppler it looks like the first part of the storm just wrapped clear around Palm Springs and didn't touch it, but it should be getting hit pretty hard right now. You just jumped the gun!
Leave a Comment: