May 3, 2011
Portal Road, Snow, Permits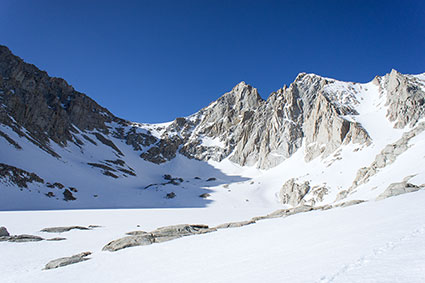 Despite the ease of access, the Whitney Portal region has a less than glowing reputation when it comes to backcountry skiing. Perhaps it's not so much that there's something wrong with the area, as that there is almost always better skiing to be found elsewhere. Still, I can report that Whitney Portal Road is now officially open all the way to the portal, and that there is quite a lot of snow up there once you get around 10K or so.
Note that we are now in quota season for the Whitney Zone. Essentially all travel into the zone now requires a lottery permit, including day hikers. As of this year, dedicated walk-in permits unfortunately no longer exist for the Whitney Zone; the entire quota is now subject to lottery. That said, if the lottery/reserved permits don't reach quota for any particular day, you can still pick one up as a walk-in subject to availability during regular business hours at the Whitney Visitor Center.
Finally, on to the snow: we saw a heck of a lot of winter this past Sunday. Temperatures were unseasonably cool and then some. I believe the town of Lone Pine saw a high in the 60's (temps this time of year can easily get into the 90's). Consequently, the snow was crunchy on all aspects above 10,000'. North aspects were smooth and bulletproof, with some wind-affected snow to be found as well. The photo here shows Consulation Lake (frozen) and Mt. McAdie beyond. For those of you interested in hiking the main Mount Whitney Trail, note that the Trail Crest switchbacks will be snow-covered and dangerously icy well into the Spring and maybe even Summer hiking season.