April 1, 2013
Snow Valley: Done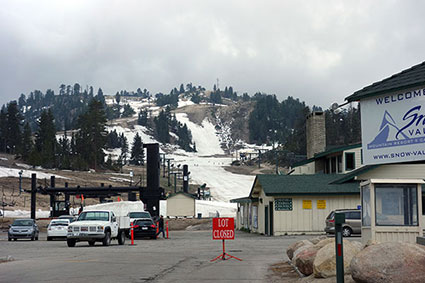 Given what a rotten winter it's been in the backcountry, it was sure a solid season for me and my kids at Snow Valley...at least until today. The kids and I skied Easter 2012 at Snow Valley (which was April 8), and a week later we skied it again, enjoying truly excellent coverage. No such luck this year. With only chair 6 running(!), we drove past today and headed somewhat guiltily to Snow Summit.
That closes out what feels like a season of milestones for me and the kids. In two quick years my son has progressed from a little guy just off the leash to a rampaging six-year-old capable of skiing any pitch in Southern California. And to my surprise and delight, the girl went off the leash this spring, allowing the three of us to credibly ski together as a family.
There will be hopefully at least one more weekend this year for the kids and me in SoCal, and Mammoth beyond that, but I sure felt sad driving past Snow Valley today. There was snow here last Easter! my brain kept shouting. How to reconcile that fond memory with the dirt-and-grass view of today? Too much heat, I guess. Too few storms. Aw, heck.