May 13, 2013
More Thoughts On the Soul 7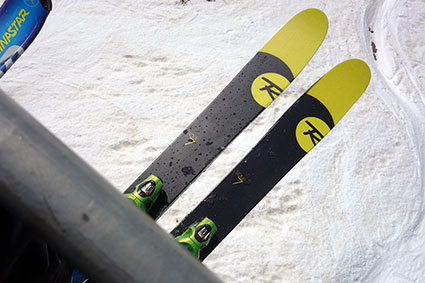 Rather than update my Soul 7 review, I think I'm just going to add some additional thoughts here. As expected, I did go ahead and buy a pair, and I paid with my own money. First of all, there's nothing I hate more than ski manufacturers making me bleed my own blood, but it does give me a liberating sense of freedom when it comes to making public comments about their gear.
A big concern for me, with the Soul 7, was whether or not it was truly an 'it' ski. I spent about an hour on a demo pair in Winter Park, but that just isn't much time, and it certainly isn't under diverse conditions, and I'm always a little worried as to whether or not my memories of SIA skis are going to pan out here at home. So I was anxious when I snapped into my own Soul 7's for the first time at Mammoth Mountain yesterday.
That anxiety resolved with remarkable alacrity. I'm not asking the Soul 7 to be a brilliant powder ski, to be honest. I want it to be a brilliant Mammoth ski. I want it to be credible enough on frozen early morning hardpack that I'm not cursing until the snow softens, and then as the day warms and things mush up, I want the ski to be an absolute monster on steeps, slush, and giant bumps.
In trying to formulate my thoughts on the Soul 7, I'm finding myself having difficulty believing my actual, on-the-snow impressions. It was that good! The Soul 7 might actually be more balanced on hard snow than the Bonafide. It is certainly outstanding across the mountain on soft snow, with abundant flotation, outstanding quickness, clean carving ability, and a just-right subjective zingy on-snow feel.
I have to point out that a pair of 172cm Soul 7's weigh eight pounds zero point five ounces on my scale (lighter than a pair of Kabookies and basically dead even with a pair of Nunataqs), making them a fantastically viable choice for the backcountry. Is this an It ski? I think it is. I think this is one people will be talking about (and riding) for a long time, and I think I'd be doing all of you a huge disservice if I didn't tell you to basically just go buy a pair now if you have any interest in this class of ski.
buy it: $699 at Backcountry