"You are not an Emergency"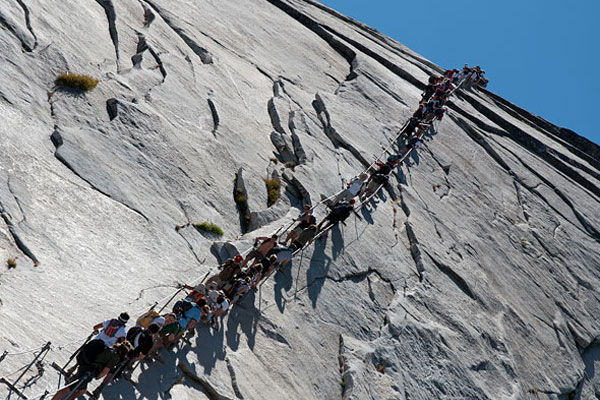 "Howdy neighbor," were the first words he said to me. I'll call him Mr. M, and he and his young son were staying in the Curry Village tent cabin next to mine. Mr. M had a wry, slightly ironic Old World demeanor—maybe Slavic, maybe Baltic. Good neighbor material, I thought. And as a fellow father, I admired him for spending time enjoying the splendors of the Yosemite Valley with his boy.
It was Sunday, the end of August, and I was there with my friend Bill to hike Half Dome the next day via the John Muir Trail and the infamous cables. The route is immensely popular; in summer, the one photo I have of Half Dome often accounts for as much as 25% of SierraDescents' daily traffic, as people looking for route information come calling. Half Dome's popularity has led to a weekend quota system implemented this year for the cable section of the route, plus much active policy discussion as to how to deal with the crowds.
At four a.m. Monday morning, I heard a cell phone alarm go off in Mr. M's tent—a ring tone of some gangsta rap tune I didn't recognize. Maybe M had an unexpectedly rich sense of humor, or maybe it was the boy's phone. Either way, I knew what they were up to. If you're staying at Curry Village and you set your alarm to go off that early, you're climbing Half Dome. Or at least, you're trying to. And maybe even in that moment, my sleep-addled brain added up what I knew about my neighbors and decided they were going to have a very tough go at it.
Bill and I Hike Half Dome
Bill and I were up two hours later to eat breakfast and then hit the trail. By seven-thirty we'd already passed Mr. M and his boy, just before the junction to the Mist Trail. Half Dome is a long, arduous hike. We might fairly call it a climb: the cable section passes over what would otherwise be class 5 terrain, a 46° smooth slab of fantastically-exposed granite. And when Bill and I reached the cables, just before noon, we discovered the result of the weekend quota: now everyone hiked on Monday. The cables were horribly overcrowded, with an hour backup just to get on them, and not much progress to be seen for those clinging to the wires above.
Under different circumstances I would have called it a day and turned around, but I wanted photos of the whole route, so I felt committed. I got in line and waited and waited. Bill decided to hang back, hoping the crowds would lessen. When I returned to the bottom of the cables, nearly three hours had passed (ordinarily, it wouldn't take me 15 minutes to get up the cables). Bill was in line low on the cables, deciding at long last to give it a shot. I told him to be patient, and that I'd see him back at Curry Village in the valley.
I had long since run out of water. I was hot, thirsty, tired, and generally unhappy about being so high on the route so late in the day. So I set a quick pace down, intending to get to water and dinner in the valley with all possible haste. At the bottom of the granite steps below Sub Dome, somewhere past three o'clock, I passed Mr. M and his son. I recognized them and called a quick hello. They didn't seem to recognize me. And as I continued down, and time passed, I began replaying that short meeting in my mind, and increasingly feeling regret. My spider sense had been tingling, and in my haste to get to water, I had completely ignored it.
Though the boy looked peppy enough, Mr. M had looked utterly spent, crawling upward, bent over. He looked long past the point at which he should have turned back, but something (and as a father myself I had a good guess) was obviously driving him to keep going upward. If M and his boy had turned back at the very moment I saw them, I knew they had little chance of getting back down before dark. And if they kept going, odds were good they'd be spending the night somewhere unprotected on Half Dome.
Now, it's not my job to tell people what to do in the wilderness. In fact, my general principle is that people have the right (mostly) to do any crazy fool thing they can imagine. But that doesn't mean I can't offer a little friendly advice now and then. My memory said the father and his son were hiking without packs or jackets. I wished I had taken half a minute to stop and explain to them they were on the verge of turning an exhausting hike into something a lot harder and scarier. But I hadn't. And it was too late for me to turn around to try to find them.
Curry Village
Bill showed up in Curry Village just before 8 p.m. As he was heading down, he'd seen M and his boy at the bottom of the cables still heading up. The time then had been past 4 p.m. Based on this new information, I knew the best our neighbors could hope for was to hike through the night, maybe getting down by 2 a.m. if they were able to hold a good pace. But did they have headlamps? Jackets? Food? Enough water? It was impossible to say. I fell asleep uneasily that night, wondering what they were going through. At four a.m., their alarm rang, waking Bill and me. The alarm kept ringing, every few minutes, and didn't stop—not even when the sun came up.
So they'd spent the night out there. Temperatures were probably in the forties high on Half Dome, in the fifties elsewhere, certainly not life-threatening without wind. But still more than enough to make for a miserable night, and with a child being involved as well, I decided to report them missing. I walked to the Curry Village registration desk, got connected to the ranger dispatch, and gave a description of Mr. M and his boy and where we'd last seen them.
By ten o'clock that morning, when I had to leave Yosemite, they still hadn't shown up. I was hoping that rangers were at least out looking for the boy and his dad. Likely they needed some food and water and warm clothes, and more than a little encouragement to get back down safely. Bill stayed on, planning to do more hiking in the Yosemite area.
Mr. M's Story
Around eleven a.m., Mr. M and his son finally made it back to Curry Village. They related their story to Bill as follows: yes, the dad had wanted to turn back, but he'd promised his son that they would hike Half Dome, and keeping that promise had proven to be a powerful motivator. They did not have headlamps or a flashlight. It became very dark and hard to see. They made it down to the top of Nevada falls, where the boy became very cold. The dad decided against trying to hike down the Mist Trail in the dark (a very good decision). As he became more concerned about his son's condition, he called 911 on his cell phone.
The operator told him that it was not an emergency and she would not inform Search and Rescue. Mr. M kept asking for help. He was upset and told her, "my son is dying, he's shivering and cold." The operator said since nobody was dead or hurt there was no emergency. She told Mr. M to just keep the boy moving. Eventually, some backpackers came along and offered help. They heated some water and placed hot water bottles on the boy's stomach. That helped. The hikers said they would inform the ranger at Backpacker's Camp of the situation. But a ranger never came. The father said "I guess they only come out if you're already dead."
They slept on a table in the restroom sharing body warmth. This startled a few day hikers who were hiking in the pre-dawn hours. The dad was pretty upset. He thought he was killing his son. They were particularly upset with Search and Rescue. According to their account, Search and Rescue only cares if you're dead or injured. Near death doesn't warrant a response.
Thoughts
Bill suspects the rangers/911 operators get a call like that in Yosemite every other day. I'm not so sure. Obviously, unprepared hikers in large numbers take on Half Dome every day in summer, and many of them will get in at least some degree of trouble. But I'm particularly bothered by two things here. The first is the fact that a child was involved. The second is that the 911 operator refused (apparently) to forward the help request to an appropriate agency despite Mr. M's insistence that he needed help.
Most of the time, of course, people in Mr. M's situation will survive a night like that. But not all the time. A little wind, some wet clothes, some poor choices...it doesn't take much. Is it really within the discretion of 911 dispatchers to deny aid to people who insist they need it? As a matter of policy I always assumed every 911 call requires a response, regardless of merit. And I find it hard to believe that the average SAR member, who is overwhelmingly a volunteer in this country, would have refused to carry hot liquids and a blanket up two miles of trail in the dark to help comfort and calm a scared father and his cold son. Why not let SAR personnel make the decision as to whether to go up or not?
As I said, I had already left Yosemite, so part of this story is told as related by my friend Bill. I can't verify the details as to what actually took place between the father and the 911 operator. Additionally, obviously Mr. M bears responsibility for failing to turn back at a reasonable time of day. That said, Yosemite is a high-use area filled with inexperienced hikers. If the response of the rangers and 911 was indeed to do nothing in the face of this father's repeated requests for help for his child, I'd say that's a policy in need of review. It would have taken very little effort to help.
Andy Lewicky is the author and creator of SierraDescents
Jonathan L August 28, 2010 at 12:19 pm
How about this, SAR goes up the trail to bring a blanket to someone ill-prepared -- no flashlight, but I took my magic cell phone -- and someone who is really in trouble and requires rescue doesn't get it. Every 911 call does require a response -- and in some cases the response is no, that's not an emergency.

Or even worse, take a look at this:

http://www.nationalparkstraveler.com/2009/10/third-time-was-anything-charming-%E2%80%93-spot-misuse-grand-canyon-national-park4790
Tom C August 30, 2010 at 3:16 pm
Interesting story. The link posted by Jonathan brings up some difficult questions as well. As an ER doc and SAR veteran (even on YoSAR for a brief period), I see this sort of behavior daily. Personally, I feel that every call to 911 should get some sort of response... But Bill is right, YoSAR gets calls like this every day, and with a finite pool of resources there must be a triage process -- though the 911 operator is probably not the best person to do this. With more and more wireless coverage and the advent of cheap satellite beacons, these calls are increasingly frequent. Though most community SAR teams are indeed volunteer, the NPS teams are paid by the hour. Even running a few blankets up to the top of Nevada falls would incur several hundred dollars of expense and would decrease the resources available for other park emergencies. That being said, if Mr M was scared for his son's life, this case seems like a no brainer.

There has always been great debate in the SAR community regarding whether those who utilize backcountry emergency services should be charged. I don't have a good answer for that question, but as more people are able to frivolously (or not) sap EMS resources, there needs to be a new paradigm for how we deal with misuse of the system.

But back to Mr M's story, I confess that as a father, a doctor, a climber, and a SAR member, I am disturbed that a pivotal decision such as whether to mount a SAR mission was made by an operator.
Andy August 30, 2010 at 3:36 pm
I confess that as a father, a doctor, a climber, and a SAR member, I am disturbed that a pivotal decision such as whether to mount a SAR mission was made by an operator

My thoughts exactly. Something important I should mention is that knowing the dad and his son, even in this very limited way, personalized them and their story for me. Heck, I even reported them missing. I felt concern and even a sense of responsibility for them that was completely different than just hearing about some strangers getting into trouble.

Maybe this incident could have been handled to everyone's satisfaction if the operator (or a ranger, via phone) had just successfully reassured the dad that he and his son were going to be okay, and that rescue people knew where they were and were monitoring the situation. The operator could have even told them to call back to check in after an hour or so. The operator could have (and maybe did) suggest ways to stay warm.

But the sense I get, from the dad's version of the story, is that he got the big brush off from 911, despite his insistence he needed help.
Dan Conger August 30, 2010 at 9:01 pm
My father retired from nearly 30 years in law enforcement. Based on his testimony, 911 and other services are vastly over-used. I think the increase in rates of accidents/deaths in the wilderness are a direct result of one thing: accessibility. It is so easy for me to load up my Honda Crosstour and head to the mountains either to ski or hike. 50 years ago, it was not so simple. Roads, vehicles, and every other means of access have been improved greatly and world class pro-level equipment can be bought from any sporting goods store. Not only that, once your there you have your convenient satellite device that will call for help if you feel like you need a hot cocoa on the hike. This often makes people feel invulnerable and many do indeed take risks that they wouldn't if these things weren't available. People need to realize that these wild places are extraordinarily dangerous and take steps to be adequately prepared, both with supplies and training/physical fitness. Even a very heavily travelled hike like Half Dome or Mt. Whitney can prove fatal with even the smallest mistake. I myself have turned back from hikes when my own safety standards were exceeded, even though others may have pressed on in the same situation.

Having said that, I think anytime someone receives a call from an individual who believes their child is dying needs to take it seriously. Had the child (or father) been killed or suffered serious injury, the media and public would be calling for the head of the 911 operator. Since it turned out OK, no one would even hear about the incident unless they read this website.

Basically, my reaction is two-fold. One, people need to take the risks very seriously and make well educated decisions about heading into wild places. Two, if an emergency situation does arise, the authorities still need to take it seriously despite the fact that it may indeed be the 100th call of the day.
Dagney September 4, 2010 at 12:18 pm
It WASN'T an emergency. These issues are black and white for me, most likely because of my upbringing.

Mountains, wilderness, altitude are not Disneyland. They are unpredictable; friendly, terrifying, warm, cold, combinations of all, when you expect it, when you least expect it. Sometimes all the prep in the world is rendered completely useless by the elements.

Search and Rescue is not a babysitting service. 911 operators are not brainless idiots. Personal responsibility is a lost art.