September 26, 2013
Canyon With Kids, Reprised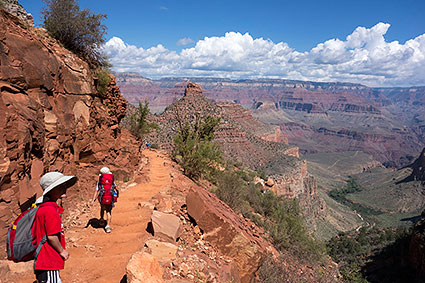 We made it out! I don't think I've ever been as anxious about a backpacking trip as this one, but when my brother invited me to join him on a 2-night trip with his family to Indian Garden, there was a lot of history to live up to. I've long thought that 1978 hike to Grand Canyon's Cottonwood Camp was one of the most formative backcountry experiences of my life.
So how could I resist the chance to reprise it with my own son? Well, for starters this has been a summer of spine problems for me, and even days out from the start of the hike, I was far from sure I could carry an overnight load for myself, much less for the both of us. And then there was the hike itself: with kids every new experience has the wonderful but also tragic ability to break either way.
Sometimes you get lucky, and you spark a new passion; sometimes a tiny quirk of fate accomplishes exactly the opposite. So I put a lot of pressure on myself to make the hike a success. Despite the bad back, I carried a ton of food. I brought a pillow. I brought my full collection of headlamps, compasses, and thermometers, and hid them in cool little bags inside my son's pack to surprise him.
And I crossed my fingers that Arizona's record-setting monsoon would finally give up the ghost before we got there. As you might guess, doing an overnight trip with a six year old was a lot of work, but my back held together, the rains stopped just in the nick of time, and everything else went smoothly. Our hike turned out to be exactly the passing-along of the torch that I had hoped for—or maybe I should say, the lighting of the spark...