July 27, 2014
Inyo Mts: Squaw Peak
Flies, Cats, & the Mother of All Sandbags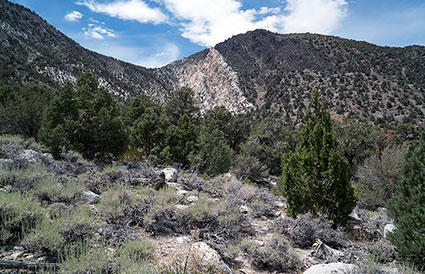 At first, I thought it was simply a case of guidebook error. Later—hours later—when I was beset by flies, and covered in scratches and pine sap, when my legs were doing the sewing-machine shake, when I saw the fresh cat tracks, when I knew I was going to run out of water—in Death Valley, of all places!—when I was long past the point of anything resembling fun and deep into this is stupid and starting to get scary...I realized something:
I was on the wrong f***ing mountain!
Or so I thought. I had to be on the wrong mountain, because no guidebook could possibly be so far mistaken in its description of what was supposed to be an easy trail hike to the summit of Squaw Peak and Waucoba Mountain, in the Inyo Mountains. It was impossible.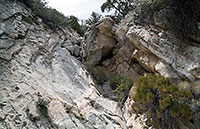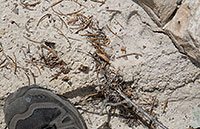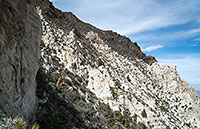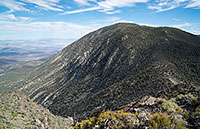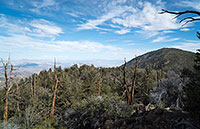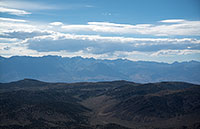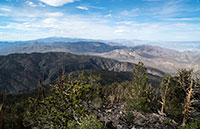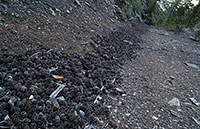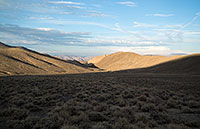 The swearing began almost immediately after I'd left the car.
Check that: I began swearing in the car, because my guidebook—Climbing California's Mountains, by Jay Anderson—had gotten the mileage wrong, adding extra unwanted middle-of-nowhere bone-jarring laps on Death Valley Road before I'd found (or had I?) the turnoff to the co-called "trailhead."
I'm not opposed to beatdowns—really, I'm not. They have their place. Some of my fondest hikes—the 'Andy Specials'—were misadventures that went horribly wrong in all the best ways.
But when you are expecting an easy and modest trail hike, and you get instead a merciless scramble up steep and extremely rugged ground with not only no trail but no evidence of a trail ever having existed, that's what I call a sandbag.
Anderson, where's my f***ing trail? I kept saying aloud, as the non-trail continued to fail to materialize.
Anderson's instructions appeared to be clear: ascend the gulley between Squaw Peak and Waucoba Mountain. But how could any sane guidebook author ever claim this endless, cliff-bound class 3 gully was—and I quote—"All on-trail"?
I was so furious I refused to turn back, refused to let Anderson get the best of me, even if I was woefully under-equipped for the hike, even if I was solo, probably fifty miles to the nearest help. And then I saw the track...
Is that a cat track? It sure looks fresh. I peered about the rugged canyon; I listened carefully. And then I swore a whole lot more.
Gaining the saddle above the gully entailed enough real climbing to convince me that no one could possibly be so deranged as to describe this as a 'trail' route—which meant I was climbing the wrong mountain.
I swore quite a lot more, then.
The summit—wherever I was—had nice views, but I really wasn't in the frame of mind to enjoy it. Downclimbing the gully, with its flies and invisible cats, didn't sound appealing, so I followed another gully toward the northeast, over very steep but more open ground.
The gully I was descending was filled with a curious river of pine cones. It went on and on and on. I found that by walking on the pinecones, it was a little easier to descend—not as grabby as the neighboring sharp rocks.
Still, going down seemed to take forever—why did it seem like I was much higher than the guidebook had indicated?
The answer, as incredible as it sounds: I did indeed climb Squaw Peak. Anderson's book understates the vertical gain by one thousand feet. It completely misrepresents the character, difficulty, and danger of the route. Persons interested in hiking and climbing in the Inyo Mountains should be aware that this is a profoundly remote and rugged area.
Beautiful—yes, but also hot and unforgiving. If you or your car break down here, things can devolve very quickly into a life-threatening situation. Carry extra water, in your car and on your person! Go to extra lengths to be sure you are where you think you are—and make sure others have a detailed itinerary and a check-in time.
I'm just aghast that this hike is given such cavalier treatment in what is otherwise an enjoyably quirky book of California peaks. I haven't been able to find a mailing address for the author to send him suggested revisions (or a bag of poop), so be advised that in my expert opinion, Anderson was on crack when he wrote the Squaw/Waucoba section.
As for me, I think I'll try to avoid doing any more solo work in the desert peaks—though after this post, no doubt it will be even harder to convince any of my friends to join me... :)