South Kaibab-Bright Angel Loop — Page 10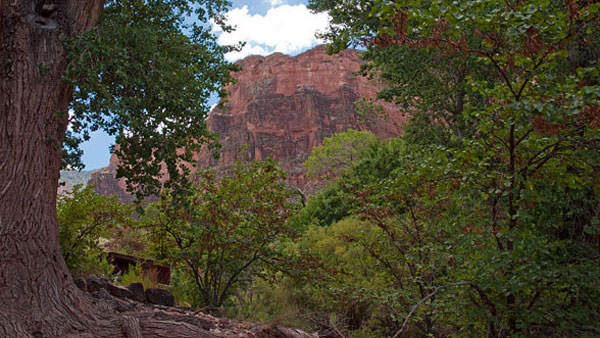 Indian Garden
It is possible, emerging from the depths of the Inner Gorge, to allow yourself a measure of hope. The canyon once again appears wide open here on the Tonto Plateau.
The air may still be hot, but it's certainly not as hot as below. And the lush green oasis of Indian Garden lies just ahead, a wonderland of rushing water and great shady Cottonwoods that rivals if not exceeds the miracle of Phantom Ranch now far, far below.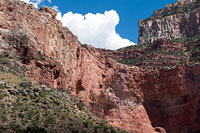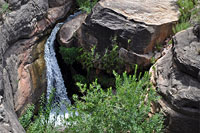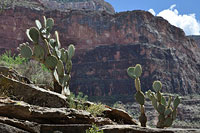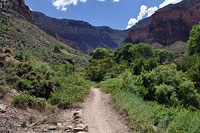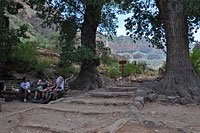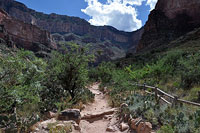 I scrape along the trail until I come to Indian Garden's water faucet, where clumps of hikers lay strewn about in the shade, moving only when necessary to refill a water bottle or two.
Yes, I am no longer traveling solo, having climbed up high enough now to come into range of the Bright Angel's day hikers, who all have a decidedly hot and weary look about them.
To which my slightly uncharitable thought is: you have no idea. I wait my turn at the faucet, then fill up, dump water over my head, fill up again.
Then I plop down in close range to the faucet to take a prolonged rest here in the wonderful shady cool.
Though Indian Garden was originally used by Native Americans, it too came under the control of Ralph Cameron, who negotiated with the Havasupai in 1903 to plant the Cottonwoods and build a tourist camp here.
Compared to the eerie and hostile landscape below, Indian Garden feels indeed like paradise. Maybe it's a little early to let your guard down, but the canyon sure feels a lot safer here, too.
As for the scenery, though Indian Garden and the Bright Angel Trail in general lack the sweeping vistas of the ridge-following Kaibab, the mixture of brilliant red walls towering above and abundant desert vegetation below feels the most quintessentially Grand Canyonish to me.
Here on the Bright Angel, cooling our heels at Indian Garden, we are once again in the canyon of postcards and smiling tourists. And that's just fine with me.
It would not be honest, however, for me to claim I have emerged from the Inner Gorge unscathed. I've got a weak but persistent headache. My muscles are sore and starting to stiffen. My body chemistry feels out of whack. It's not easy, even here in the shade, to drink water or to eat, but I take care to do both.
As hikers of the modestly-sized but savagely grueling Walter Powell Route, my brother and I have come to conclude that the Grand Canyon hikes bigger than it is. Meaning, if you are used to thinking of hiking difficulty in terms of vertical feet (as I do), you need to add a multiplier to the canyon's vertical to adjust the numbers, maybe somewhere between 1.5 and 2X.
If you've hiked a vertical mile in the mountains, count going rim-to-river in the canyon as the equivalent of an 8000 vertical foot day—and that's only if you stay on a corridor trail, with access to water. Go off trail and dry, like the Walter Powell, and God help you.
Arrgh...guess it's time to head on out of here. At Indian Gardens, the elevation is presently 3800', just about 3000 feet below the rim and Bright Angel Lodge. By my modified calculations and given my present pitiful condition, that amounts to...a heck of a long way still to go. The sun is still hammering the Tonto Plateau, but by the time I get to the switchbacks above, much of the trail should be in shadow. I'll need it. That's for sure.