South Kaibab-Bright Angel Loop — Page 12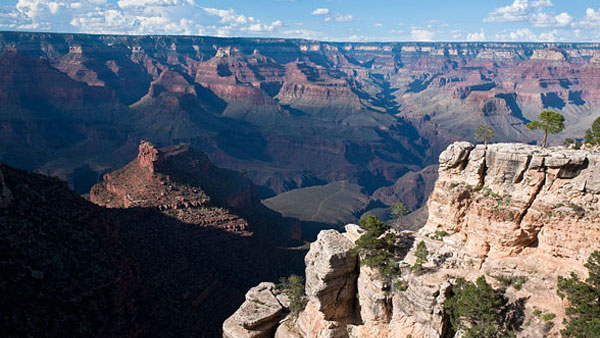 Finishing the Loop
Down the South Kaibab. Up the Bright Angel. Surely this hike, with its dazzling vistas and incomparable geologic diversity, ranks among the most extraordinary I've ever done.
Done in a day, it is also probably among the most dangerous hikes I've ever attempted. But why do it in a day? Add an overnight at Bright Angel Creek campground to better savor the canyon's many delights (including, of course, a steak dinner at Phantom Ranch).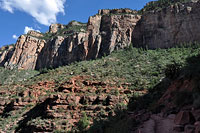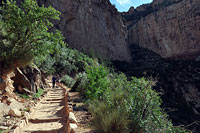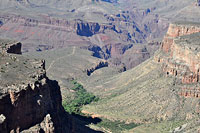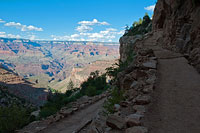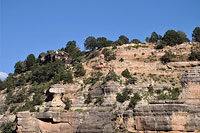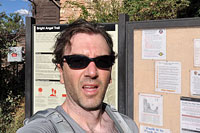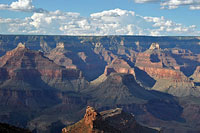 I've now progressed beyond the top of the Redwall Limestone layer. I can see a distant flag fluttering in the wind somewhere atop the rim.
It is heartening to see this evidence of civilization—though I have at least another hour of climbing to go. Shadow at last envelops the Bright Angel Trail. It feels wonderful to take off my hat and let my head—and body—begin to cool a bit.
The difference between hiking in direct sun versus hiking in shadow is striking. Around me, other hikers seem to come back to life. All of us breathe a collective sigh of relief.
A prolonged traverse northward, however, soon takes us back into the sun for another round of climbing. The cursed hat goes back on my head.
I'm high enough now to be well within range of the Bright Angel Trail's most casual day hikers. As they talk and laugh and snap photos, I crawl pitifully upward, my pace now seemingly slower than everyone else on the hill, young and old, thick and thin.
My pride doesn't like getting passed by others, but there's nothing I can do about it. My blood feels like sludge in my veins; my legs feel like stone. Slowly and steady may not win the day, but it will eventually get me to the rim, and that's what matters.
In their book, Over the Edge: Death in Grand Canyon, Michael Ghiglieri and Tom Myers note an almost universal misconception among people who get rescued from the canyon: the belief that since so many people hike Grand Canyon each year, it's can't be that dangerous.
Indeed, the presence of other people is a known heuristic trap (Social Proof, I believe is the name of it). We see others doing it, so we think it's safe for us to do it, also.
And by the numbers, you're mostly going to be okay with that philosophy. Millions of people visit Grand Canyon every year.
Most of them turn out just fine, despite their occasional foolishness.
Then again, if we were to restrict the sample size to only those who hike all the way down to the river, the number of rescues per visits would no doubt rise considerably.
I think of it this way: the rules are different here. As hikers, outdoor enthusiasts, or just plain tourists, we come to the canyon with our own set of experiences and expectations, forged in other environments critically different in ways both subtle and not. Example: how many places do you know where thousands of people meander every day a few feet from unprotected five hundred foot drops?
There are no guardrails atop the vast majority of the canyon's cliffs, no locked gates preventing access beyond a certain deemed-safe depth. The rangers will try to talk some sense into you, if they can, but ultimately your safety is your own responsibility here. The canyon is truly a wild place, and for that it should be cherished—and respected.
I can see the top of the trail now, and Kolb Studio atop the rim. Looking back at the magnificent panorama opening up behind me, it seems almost impossible to believe I've traveled as far as I have today. Down Cedar Ridge. Across the Tonto. Into the Inner Gorge. Phantom Ranch. The River Trail. Devil's Corkscrew. Indian Garden and the Bright Angel.
Much as I need to rest, I'm already feeling reluctant to leave this greatest show on Earth. That's it: there's the sign at the trailhead. I snap a photo of myself. 5:15 p.m. Then it's a shaky-leg jitterbug across the parking lot to my car, and the day is done. I fish out my keys, and you know what? Something wells up in me. I feel myself being pulled back toward the canyon. As blasted as I am, I want to turn around right now and do it all over again.
Really...I do.