South Kaibab-Bright Angel Loop — Page 3
Cedar Ridge
Whenever I visit the Grand Canyon—be it for a multi-day hike or a day tour or just a quick visit to the rim and the Bright Angel Lodge—I always feel very privileged to be here.
Given my later than wanted start and the intimidating magnitude (and general foolishness) of my hiking itinerary today, I've been more focused on logistics than scenery, but that's gradually changing as the canyon's incredible and ever-changing vistas simply become too extraordinary to ignore.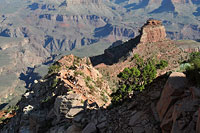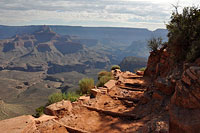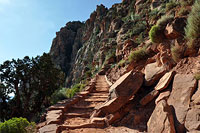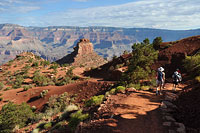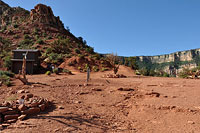 What leaps out at me first are the colors.
In all directions, Grand Canyon presents an extraordinary palate of colors, as if I'm walking right into the canvas of the world's greatest masterpiece. And perhaps I am.
Cedar Ridge, as mentioned, is a recommended turnaround point for day hikers, and it is a fine destination indeed.
The rest stop proper sits roughly a thousand vertical feet below the rim, halfway between Yaki Point and O'Neill Butte, which is the first prominent summit along the ridge below the rim.
Though it is waterless, Cedar Ridge is one of the stopping points for the mule trains that go up and down to Phantom Ranch.
Here, you'll find a broad, burgundy-dusted flat with—yes—a few scrubby cedar trees and outstanding views both north and south off the ridge's spine.
As an introductory hike to the Grand Canyon, you can hardly do better than the quick drop to Cedar Ridge.
Bring a liter of two of water, avoid the hottest part of the day, and marvel not only at the scenery but also at how hard it is to climb back out from here when you turn around to head home.
When you do get out, consider that you've only traveled about 1/5 of the way down—and consider your future canyon hiking plans carefully. Today I'm carrying two liters of Gatorade for the trip all the way down the river.
This quantity would be lethally inadequate for climbing back to the rim, but my return route, up the Bright Angel, features regularly spaced water sources. These, as we shall see, will prove critical not only for drinking, but also for cooling off. As for the weather, I'm watching the sky carefully.
Temperatures are already warming up, and I'm starting to sweat more than I'd like considering I'm heading down. Part of the reason I'm trying this hike in August is that we're currently seeing a bit of a cold snap. Hi temperatures today at Phantom Ranch are forecast to hit a relatively modest 99 degrees Fahrenheit. While that should sound dangerously hot on its own, it's a far cry from the more typical 105-110° that Phantom often reaches this time of year.
Let me just go on the record now and say that if temps are forecast to hit anywhere near 110 or higher, rim-to-river day hiking is suicide. Also relevant today is the summer monsoon. I'm counting on afternoon thunderstorm buildup to create shade (and hopefully even rain!) for me during those critical high noon hours when the sun is capable of cooking your brain into oblivion.
In this last regard, the day is already looking drier than I'd hoped. If there are going to be clouds today, they'll be scattered at best, and rain seems unlikely. A few minutes past Cedar Ridge, I stop to drink fluids and eat some salty foods. Beyond here, I'll be committed to looping via the Bright Angel Trail, so I take a moment to assess how I'm feeling and how the day looks. The verdict: onward.