South Kaibab-Bright Angel Loop — Page 7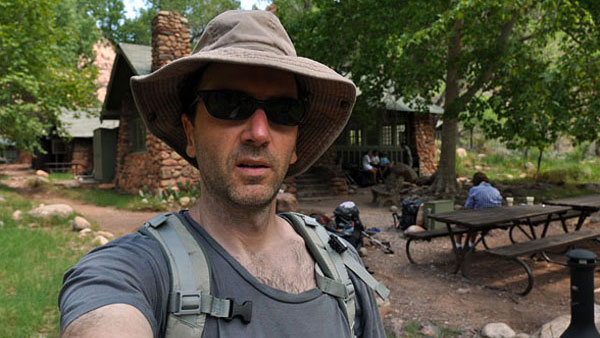 Interlude: Phantom Ranch
About halfway across Black Bridge it hits me that I'm starting to feel really, really hot. I need to find some water and cool off—now. If you're thinking of taking a swim in the Colorado: don't.
The Colorado River in the Inner Gorge is a dangerous, fast-moving beast whose unnaturally cold, 45-50° waters (thanks to Glen Canyon Dam) will quickly overwhelm even Olympic-caliber swimmers. Thankfully there is a perfect alternative: Bright Angel Creek, just ahead.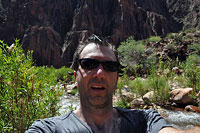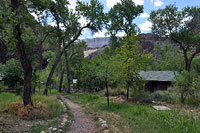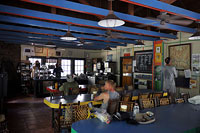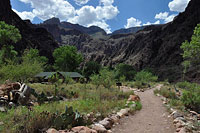 Across Black Bridge and maybe a hundred yards farther are Bright Angel Creek and Campground. At the creek I drop my pack and pour water over my head and shirt. This will become a constant ritual for the remainder of the day every time water comes in range.
Onward I go to Phantom Ranch, eager to get off the trail. Heat radiates up from the hot sand beneath my feet. The sun pours energy down from above.
But soon I'm shaded by the canopy of Phantom's broad Cottonwood trees, surrounded by green grass and the babbling waters of Bright Angel Creek.
This little paradise includes bunk houses, cabins, and even a general store. Visitors can book reservations for lodging and even meals here (advance notice required). Access is either via foot or mule train. Mules, incidentally, carry all of Phantom's precious supplies up and down the canyon.
I make my way straight to the general store, where I buy a big fountain lemonade on ice and bag of pretzels. Inside the store, I drink my lemonade and eat lunch, basking in the glorious air-conditioned interior.
I check the clock: 11 a.m. And what I'm thinking is, Aw, hell.
Really? Did I really think this was a good idea? I feel hammered. Outside the sun is cooking those Inner Gorge rocks into a frenzy. If there were an elevator to get me safely back to the rim, I'd take it right now without hesitation.
Time passes. I sip my lemonade, finish my lunch.
My body begins to cool, and my spirits rise a bit. It will take a careful and measured effort, but I'm starting to believe I might be able to hike out of here after all.
I lean back in my chair, enjoying being in this extraordinary place.
They say, geologically speaking, that hiking the Grand Canyon is like traveling back in time, as you pass through layers of rock millions and even billions of years old. But for me, arrival at Phantom Ranch causes time-travel on a more human scale, reminding me of the first time I came through here while floating down the Colorado on a rafting trip.
Then as now, the chance to sit for a few minutes in an air conditioned room (in a chair!) and drink a frosty drink on ice was a sublime luxury. My life in some ways is almost unrecognizable now as compared to then, but it's nice to see there are still threads of connection between the two. I still like to get out and hike now and then. And I still love the canyon.
I finish my lunch, and then, as tradition dictates, I purchase a postcard to be mailed here via mule at the USPS saddlebag dropoff. The clock says 11:30 a.m. It's time to get moving again. With temperatures outside still (slightly) below a hundred degrees Fahrenheit, there is a slim logic to hiking now, albeit at high noon, rather than waiting for the sun to go down. Either way, the easy part is over. Now it's time to face the reality of my situation: I'm at the bottom of the Grand Canyon, and it's up to me to get out safely.