Rim to Rim — Page 10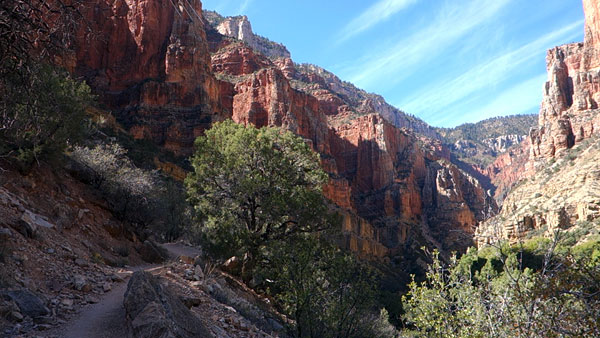 ROARING SPRINGS
For us, the Pumphouse marks the start of the most significant section of climbing on today's hike—nearly four thousand vertical feet in a very short 5.4 miles.
Our group's pace, to this point, has been quick, taking advantage of the gentle grades of the lower North Kaibab Trail. But these steep grades plus many miles of wear and tear behind us make it feel as if we're all suddenly dragging anchors.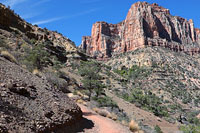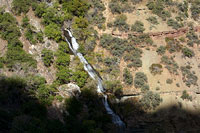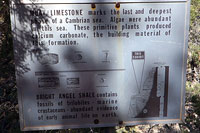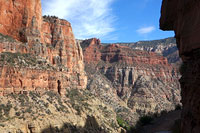 I try to find the right groove of pace versus pulse, timing my breaths to my footsteps, seeking the speed that will get me up and out on these tired, tired legs. And I'm still crazily determined to finish out my video mission.
I've put too much effort in already to give up now.
For the past mile or so I've been warily monitoring my camera's battery level (hindsight reveals I should have brought a spare), which is hovering in the dreaded One Bar zone, leaving me unknown minutes left of crucial shooting time.
What a shame it would be if my camera died, so close here to the end of this incredible day!
Or perhaps I'm not as close to the end as I think. As I approach Roaring Springs, the rim still towers overhead. Elevation here is right around 5000 feet, meaning I'm still over three thousand feet below the rim.
I take a moment to gauge the height of the sun, trying to guess what time it is. Long shadows are beginning to reach across the canyon, creating bright contrasts of light and darkness. I begin to wonder whether or not I'm actually going to make it out of the canyon before sunset. There's nothing I can do about that now—I'm going as fast as I can.
Meanwhile my brother and the rest of our group has once again pushed ahead up and out of view. I chug upward steadily behind them, enjoying the solitude, stopping occasionally to pull out my hanging-in-there camera and shoot yet another section of trail. The colors here, as we gain the base of the Redwall, are bold and saturated, postcard views in all directions.
As I recall, Roaring Springs—a thundering fall of water which shoots straight out of solid rock on the opposite side of Roaring Springs Canyon—is where my family and I stopped for lunch during our long-ago hike to Cottonwood Camp. I am comparing and contrasting the memory of that hike with this landscape I see today, puzzling over the tremendous bridge of years that connects them.
Indeed, for me and my brother, today's hike is not just a trip back in geologic time, it is also a trip back in personal time, a way to measure the ever-marching years. As much as my feet are aching and my lungs are bursting and my legs are burning, I'm seeing the wisdom of doing this hike annually, as our leader Bruce does. I have a feeling I'll be back again next year, if I can manage it. And if I can manage to get out today.