Rim to Rim — Page 11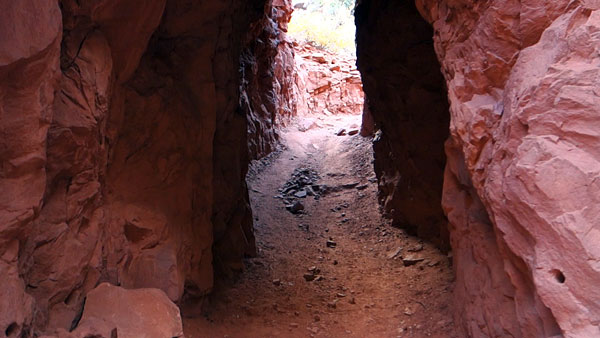 SUPAI TUNNEL
Lungs and legs are protesting mightily as I pass the last bridge crossing Roaring Springs Canyon. Somewhere high above is Supai Tunnel, last of the watering stations, elevation 6800 feet.
I've been grinding upward steadily, but for all my effort, the rim feels as if it will never get any closer. Even passing the Redwall layer is taking much, much longer than expected. This, at last, is the final secret of Grand Canyon revealed: going up is incomparably harder than going down.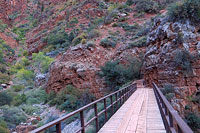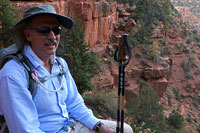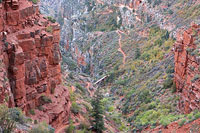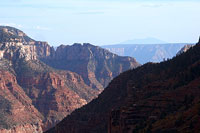 The trail above switchbacks endlessly along the north aspect of Roaring Springs Canyon. I can see the distant figures of my brother and the rest of our group working upward ahead, and I get a mental boost as I realize I'm drawing closer to them.
The climb, at last, has evened our uneven hiking paces, bringing us all together in what is perhaps most fairly described as no small bit of misery.
But misery isn't quite the right word. Effort. Getting out is all about a complete, consuming effort, a focus of mind and breath and body. Eek out as much from the legs as possible without making them cramp. Keep that heart rate from climbing too far into the red zone.
We're so lucky there's no heat to contend with today. In fact, the air is actually chilly now. Fall colors are showing in the leaves of the surrounding trees. Higher up, I see bursts of yellows and oranges—Aspen groves.
As the day grows longer, I'm starting to realize that this final show of colors—a brilliant blue sky, rocks glowing fiery-red beneath the afternoon sun, bright yellow Aspen leaves—will be the most impressive of the entire hike.
Grand Canyon has saved the best for last.
So, yes, my body is yielding slowly to exhaustion. But my spirit is soaring. And gradually, ever so slowly, I am making progress toward the rim. Stopping on the corner of yet another switchback, I find myself looking down on the footbridge, looking down on the the North Kaibab Trail as it winds its way into the depths of the Canyon. Can't be that much farther now.
Just beneath Supai Tunnel, I'm reunited with my brother and friends. They're resting on a big rock, looking out over the canyon and the trail below. No one wants to stop too long here. We can taste our exit up ahead, and we don't want to give spent muscles any opportunity to lock up now. So it's a quick break to drink some water and eat a snack. And now, the final act begins.