Rim to Rim — Page 12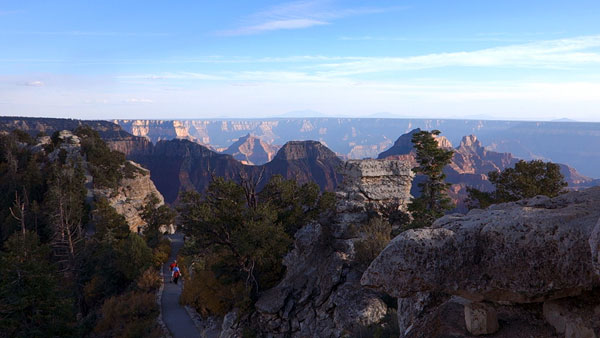 BRIGHT ANGEL POINT
Though it seems immutable, Grand Canyon is in fact in a permanent state of change. Once upon a time, there was no canyon, just a great plain. Someday, in the distant future, there will be no canyon again.
It is a happy and remarkable coincidence that we humans are here, in this moment, to experience it. But if there is a problem with Grand Canyon—if such a thing can be said—it is that the place simply is not easy to process on a human scale.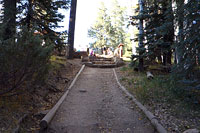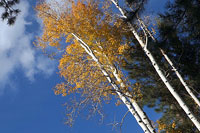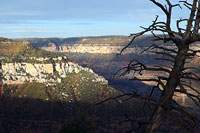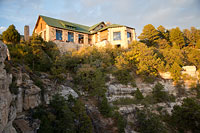 Visit it and stand atop either rim—yes, by all means. But if you can, if you are lucky enough to have the opportunity and the ability to do so, hike it. Hike the Canyon.
In this way only, putting boots to ground, are we able to begin to grasp what our otherwise overwhelmed brains are trying to understand.
And so I am nearing the end of this great hike across the divide, south to north, and feeling very proud and very privileged at this accomplishment, when my brother and I are greeted by unexpected hikers—his wife and two sons.
They've driven from Flagstaff to the North Rim, then hiked down the Kaibab Trail to nearby Coconino Overlook to greet us. And doggone it, what's this sudden rush of emotion in me? Tears are suddenly misting my eyes.
One boy wants to stay at the overlook with dad; the other wants to hike back out. So Uncle Andy gets an escort for the final lap on his hike today.
The trail makes one, last sweeping traverse beneath the rim, and then nephew and I are out of the canyon, joining the rest of our group to bask in the brilliant afternoon sunshine at the trailhead. It's hard to believe, really.
I want to call this the most perfect hike I've ever done—the grandest hike on Earth, in fact. And no small part of what makes it so grand is the fact that it's doable. Hard, yes, but also entirely doable, and if you have a dream of walking this same path yourself, let me encourage you right now to do so. Be smart and be safe, please, and build up a solid resume of training hikes in preparation.
But if you put your mind to it, I think you can do it. I really do.
From the North Kaibab Trailhead we gather our scattered forces and pile into cars to drive to Bright Angel Point and Grand Canyon Lodge for dinner. Here, I think, I should not even try to describe the rewards that await us. I'll save that for you to discover on your own. But I will say thank you—a most heart-felt thank you!—to Bruce and my brother for bringing me along on this wonderful journey.
Put me down for next year.